Looking for a fresh dip for the holidays or even for the football season parties? Other than the awesome name, this Green Greek Goddess Dips is full of greens and herbs and smells fantastic. It is so healthy, delicious, fresh for any occasion!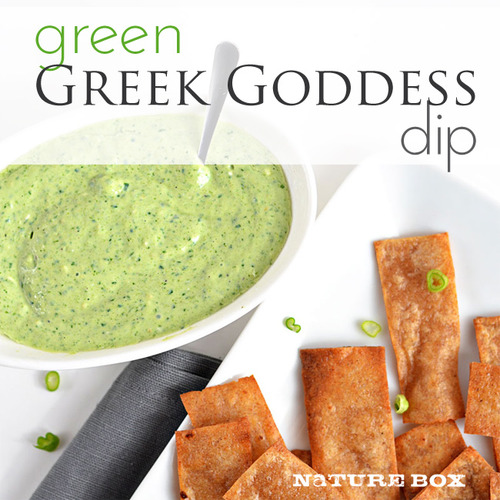 Ingredients:
1/2 cup fresh basil leaves
1/2 cup of fresh spinach leaves
1/4 cup fresh flat-leaf parsley leaves
1/4 cup chopped green onions
1/4 cup plain fat-free Greek yogurt
1/4 cup of cream cheese (regular, low-fat, or plain)
2 tablespoons extra virgin olive oil
1/2 teaspoon freshly ground black pepper
1/4 teaspoon kosher salt
1/4 teaspoon of ground garlic
Directions:
1. Combine all ingredients in a food processor or blender until just combined. Cover and chill until ready to serve.
2. Serve with pita chips or crudite. You can also spread it on a sandwich!
Pics or it didn't happen! When you whip up this recipe, post it on Instagram or Facebook with the hashtag #natureboxrecipe so we can like and reshare it!
Get more healthy ideas and delicious snacks by joining NatureBox. Sign up today to get 50% off your first box!