This isn't your run-of-the-mill tuna salad! Ahi tuna is seared on the grill to perfection and served with a fresh tomato-arugula salad with a peppery bite. It's dressed with a citrus-y vinaigrette with a kick!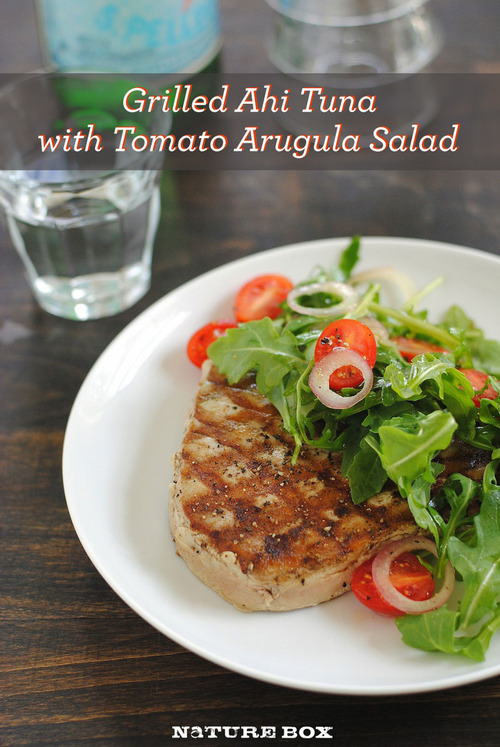 Serves: 4
Prep time: 15 minutes
Cook time: 4 minutes
Ingredients:
2 tablespoons fresh orange juice
2 teaspoons Dijon mustard
1/4 teaspoon kosher salt, divided
1/4 teaspoon ground black pepper, divided
3 tablespoons extra virgin olive oil, divided
1 small shallot, thinly sliced
1 cup grape tomatoes
4 sashimi-grade yellowfin tuna steaks
4 cups baby arugula
Directions:
1. In small bowl, whisk together orange juice, mustard, and 1/8 teaspoon each salt and pepper. While whisking, drizzle in 2 tablespoons oil. Add shallot and tomatoes, toss to combine.
2. Preheat grill for direct grilling over medium-high heat. Brush tuna steaks with remaining 1 tablespoon oil, and sprinkle with remaining 1/8 teaspoon each salt and pepper. Transfer steaks to hot grill rack. For rare tuna, cook 1 minute. Rotate steaks 90 degrees; cook 1 minute. Flip steaks; cook 1 minute. Rotate 90 degrees; cook 1 minute longer. Transfer steaks to plate and let stand 5 minutes.
3. Add arugula to tomato mixture; toss to combine. Serve tuna steaks topped with salad.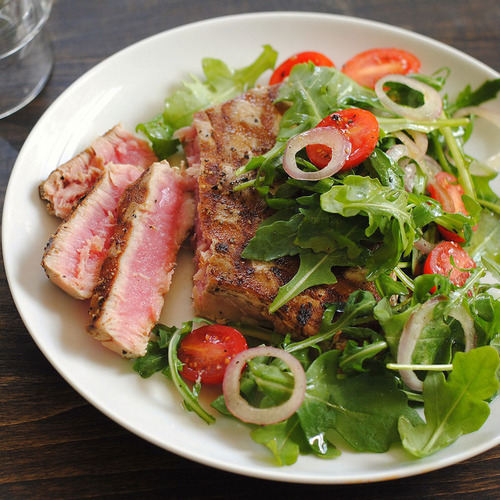 Get more healthy ideas and delicious snacks by joining NatureBox. Enter coupon code NATURE for 25% off your first month subscription!
Lori is a Detroit-area food writer, recipe developer and restaurant reviewer. She's usually found in the kitchen cooking up something that undoubtedly involves beets, lemons or coconut for her blog, Foxes Love Lemons. Check out more of her recipes here.