It's not just the lazy days and perfect pool weather that we love about summer. We love firing up the grill to cook up our favorite dishes. So why not go beyond the tried-and-true BBQ standards?
We've whipped up this unique dessert: grilled banana boats. When covered and grilled, bananas' natural sweetness is ripened to new heights. And when dressed with creamy peanut butter and our crunchy Chocolate Quinoa Granola, the resulting dessert is a substantial sweet treat. Enjoy!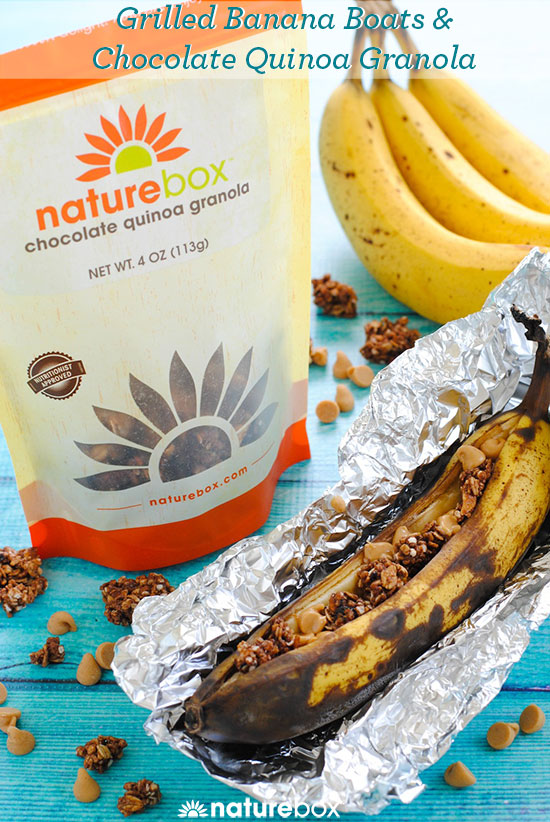 Makes: 1 banana boat
Prep time: 5 minutes
Grill time: 5 minutes
Ingredients:
Directions:
1. Preheat outdoor grill for direct grilling over medium heat. Place banana on 12-inch square of foil.
2. Make 1/2-inch-deep slit in banana lengthwise, leaving 1-inch uncut at both ends. Use fingers to gently pull banana open. Fill banana with granola and peanut butter chips; wrap foil around banana, keeping banana upright if possible.
3. Transfer banana to grill and cook 5 minutes or until peanut butter chips are melted. Unwrap and serve immediately.
Looking for more hot ideas for the grill? Try these green beans with Marcona almonds!
Get more healthy ideas and delicious snacks like Chocolate Quinoa Granola by joining NatureBox. Sign up today for a free trial!