We're smack in the middle of summer and at this point, you've grilled up all your favorite summer dishes. In need of some grill-spiration? Add this green bean side dish to your repertoire!
Grab that grill basket, fire up the barbie and toast these green beans drizzled with a touch of extra virgin olive oil. Serve them with sliced Marcona almonds and Parmesan cheese then finish off the dish with an orange-shallot vinaigrette.
What are some of your go-to grilled recipes?
Serves: 8
Prep Time: 15 minutes
Cook Time: 6 minutes
Ingredients:
For the Grilled Green Beans:
2 pounds fresh green beans, ends trimmed
2 tablespoons extra virgin olive oil
1/2 cup Marcona almonds
1/2 cup shaved Parmesan cheese
For the Orange-Shallot Dressing:
3 tablespoons fresh orange juice
2 tablespoons minced shallot
1 teaspoon Dijon mustard
Pinch of kosher salt and ground black pepper
3 tablespoons extra virgin olive oil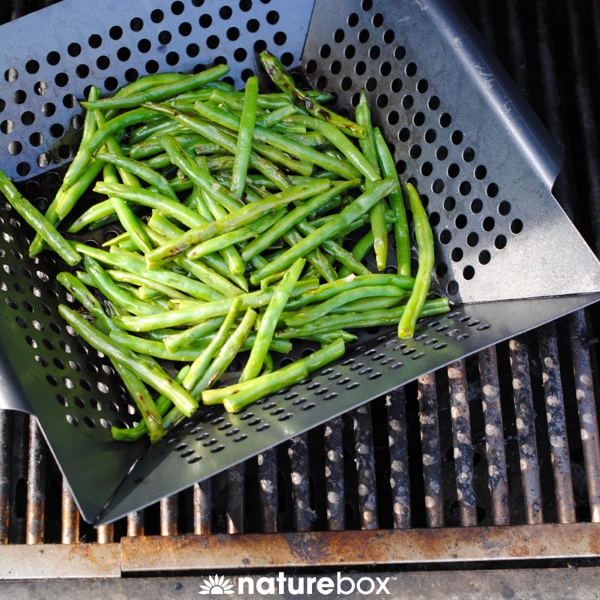 Directions:
1. Make the Green Beans: Heat grill for direct grilling over medium-high heat. Toss beans with oil and place in grill basket or grill wok. Grill 6 to 8 minutes or until beans are lightly browned and tender-crisp, stirring occasionally.
2. Meanwhile, make Orange-Shallot Dressing: In small bowl, whisk together orange juice, shallot, mustard, salt and pepper. While whisking, slowly drizzle in oil until all oil is incorporated.
3. Serve green beans drizzled sprinkled with almonds and cheese, and drizzled with Orange-Shallot Dressing.
Get more healthy ideas and delicious snacks by joining NatureBox. Sign up today to get $10 off your first box!