Kick off the grilling season with this savory, satisfying Grilled Pork Taco and Pineapple Salsa recipe! Pork tenderloin is marinated in pineapple juice, apple cider vinegar, honey and Guajillo chile, then dressed with a fresh tomato-pineapple salsa using NatureBox Big Island Pineapple rings.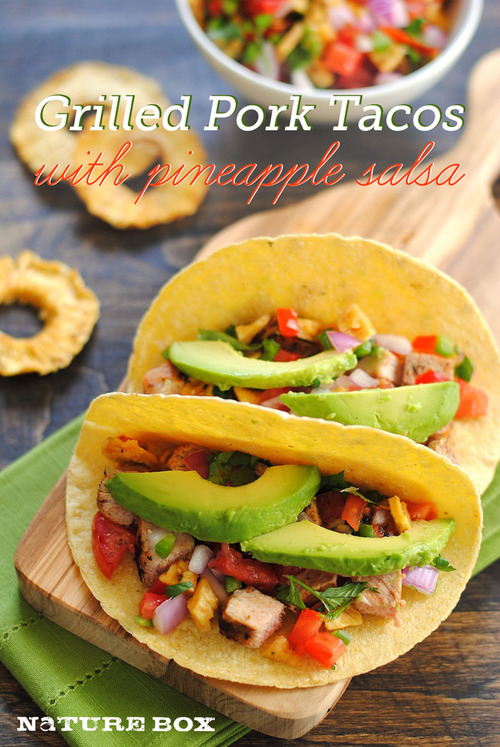 Serves: 4
Prep time: 25 minutes
Grill time: 7 minutes
For the tacos:
1 dried Guajillo chile, stemmed and seeded
2 garlic cloves
1/4 small red onion, roughly chopped
3/4 cup pineapple juice
2 tablespoons apple cider vinegar
1-1/2 tablespoons honey
1/2 teaspoon kosher salt
1/4 teaspoon ground white pepper
1 pound pork tenderloin, cut crosswise into 1/2-inch-thick slices
8 corn tortillas
1 avocado, peeled, pitted and sliced
Sriracha or other hot sauce (optional)
For the pineapple salsa:
4 NatureBox Big Island Pineapple rings, chopped (about 1/4 cup)
1 roma tomato, chopped
1/2 jalapeño pepper, seeded and minced
1/4 cup chopped red onion
2 tablespoons chopped fresh cilantro leaves
2 tablespoons fresh lime juice
Directions:
1. Make Grilled Pork Tacos: Place chile in small bowl; pour hot tap water over to cover. Let stand 10 minutes.
2. Take chile out of liquid; discard liquid. Place chile in bowl of food processor. Add garlic, onion, pineapple juice, vinegar, honey, salt and pepper. Puree until smooth. Place pork in large zip-tight plastic bag; pour marinade over pork. Seal bag and refrigerate at least 2 hours or up to 4 hours.
3. Make Pineapple Salsa: In a medium bowl, stir together all ingredients.
4. Preheat outdoor grill for direct grilling over medium-high heat. Remove pork from marinade; discard marinade. Grill pork until internal temperature reaches 145°, about 4 to 5 minutes, turning once halfway through cooking. Grill tortillas 30 seconds or until soft and pliable, turning once.
5. Dice pork; serve in tortillas topped with Pineapple Salsa, avocado and hot sauce, if desired.
Pics or it didn't happen! When you whip up this recipe, post it on Instagram or Facebook with the hashtag #natureboxrecipe so we can like and reshare it!
Get more healthy ideas and delicious snacks by joining NatureBox. Sign up today to get 50% off your first box!