Fire up the grill and bask in the sun with a Grilled Vegetable Salad! Top it off with a healthy, mouthwatering Avocado-Flaxseed Dressing and a nice cold lemonade for the perfect way to welcome the warm weather.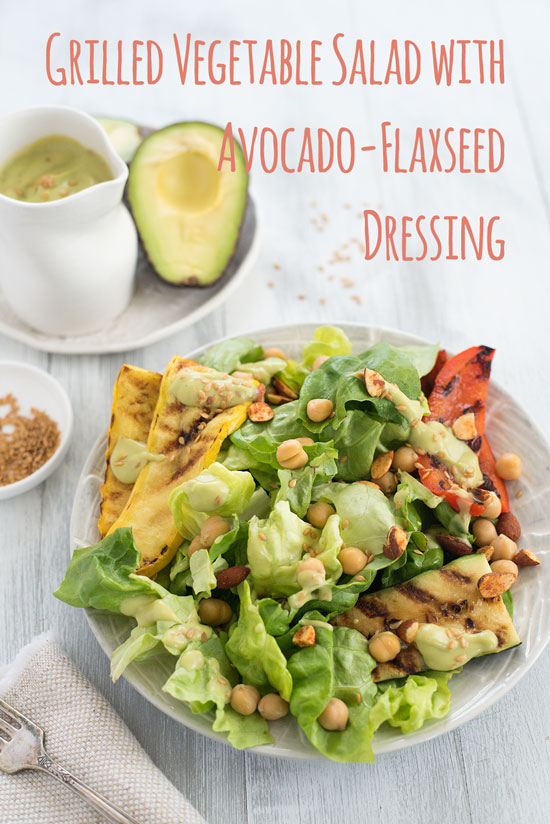 Serves: 4
Prep Time: 15 minutes
Cook Time: 6 minutes
Ingredients:
1 avocado, pitted and peeled
Juice of 1/2 lemon
1/4 cup water, plus additional if needed
1 tablespoon extra virgin olive oil
1/2 teaspoon minced garlic
Pinch of kosher salt and ground black pepper
2 teaspoons golden flax seeds, plus additional for garnish
1 red bell pepper, seeded and cut into 6 pieces
1 medium yellow squash, cut into 1/2-inch thick strips
1 medium zucchini, cut into 1/2-inch thick strips
Olive oil nonstick cooking spray
2 small heads butter lettuce, torn into bite-sized pieces
1 cup chickpeas, rinsed and drained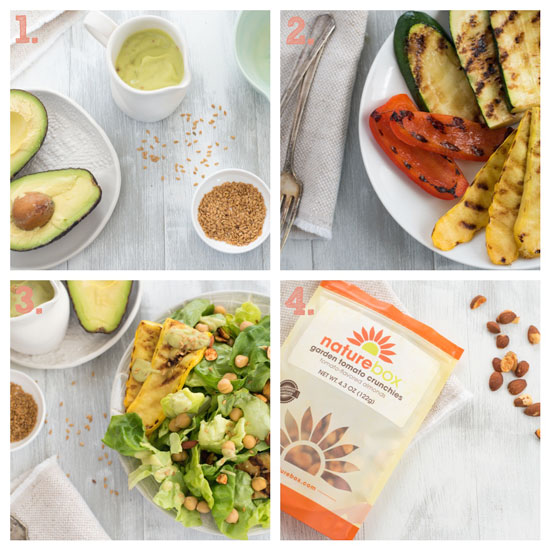 Directions:
1. Preheat outdoor grill for direct grilling over medium heat. In food processor or blender, process avocado, lemon juice, water, oil, garlic and salt and pepper. Depending on size of avocado, you may need to add additional water, 1 tablespoon at a time, to thin dressing to a pourable consistency. Stir in flax seeds.
2. Lightly spray bell pepper, squash and zucchini with cooking spray. Transfer to grill and cook 6 to 8 minutes or until tender, turning once.
3. Divide lettuce between 4 plates. Top with chickpeas, grilled vegetables, Garden Tomato Crunchies and additional flax seeds. Serve with dressing.
In a time crunch? Check out our 3-step recipes!
Get more healthy ideas and delicious snacks by joining NatureBox. Sign up today to kick off your membership with a free trial!
Lori Yates is a Detroit-area food writer and recipe developer. She is the author of Foxes Love Lemons, where she posts special yet simple original recipes, tips from her culinary school adventures and restaurant reviews. Her mission is to encourage people to enjoy the act of cooking at home. You can follow her on Facebook and Twitter @foxeslovelemons.