by Jennifer Tyler Lee of Crunch a Color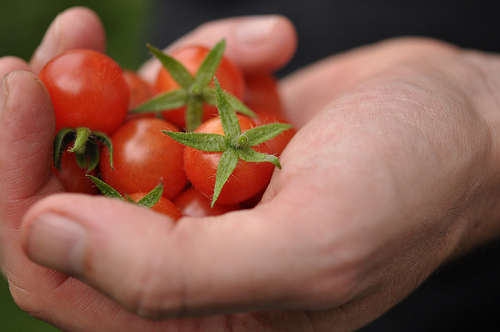 Kids who grow their own food are more likely to eat those healthy foods. But when you're a busy parent, the thought of maintaining a garden and featuring seed to table meals each week can be overwhelming.
Here's the secret: You don't need to grow a full garden to enjoy growing a meal with your kids. The keys are to keep it simple and make it fun!
Step 1: Start Small and Colorful. Dedicate a small patch of soil for a kitchen garden — even an indoor planter box or colorful pots will do. Focus on the kitchen staples that are easy to grow like lettuce and herbs. Be sure to apply the Crunch a Color meal principles to your garden. Plant your colors — red cherry tomatoes, green basil, yellow summer zucchini.
Step 2: Think Seed to Table. Feature one vegetable or herb from the garden on your dinner menu each week. Put the kids in charge of harvesting and preparing the dish. Recipes can be simple and easy, like adding fresh thyme to homemade chicken soup or blending up a nut-free basil pesto for your garden pizza. Small steps are the key to big changes.
Step 3: Shop Local. Visit your local farmers' market to round out your meals. Spending time outdoors is an important part of a healthy lifestyle, and buying locally is good for the environment too.
But there's a downside (kind of!): Your kids may develop a preference for fresh picked, seasonal veggies. Last summer we grew cucumbers in our garden and my daughter loved them. When I featured cucumber again on our family table in February she retorted, "I only eat cucumbers when they are fresh picked from the vine." I laughed and exclaimed, "That's an excuse I'm happy to accept! How about some sweet potato?"
For fun and easy recipes that you can make with the veggies that you grow, check out Jennifer's tomato mozzarella skewers, butter lettuce wraps or veggie pizza.
Get more healthy ideas and delicious snacks by joining NatureBox. Enter coupon code NATURE for 25% off your first month subscription!
Jennifer Tyler Lee is a mom and the creator of Crunch a Color – award-winning nutrition games that make healthy eating fun. She recently appeared on Canada AM to share home gardening tips.
Winner of the Dr. Toy and Parent Tested, Parent Approved awards, Crunch a Color and Jennifer's 52 New Foods adventure have been featured by Jamie Oliver's Food Revolution, Rachael Ray's Yum-O, Laurie David's Family Dinner, Kiwi Magazine, Dr. Greene, Yum Food & Fun For Kids, and Edible Silicon Valley, among many others.
Jennifer's passion is making mealtime fun and healthy for busy families. Her easy recipes, quick tips, and new food adventures are regularly featured at Pottery Barn Kids, Jamie Oliver's Food Revolution, The Huffington Post, and on her weekly recipe blog.
Photo by: barbbarbbarb via Flickr Creative Commons