It's National Grilled Cheese Day! What better way to celebrate than with a gruyere grilled cheese sandwich loaded with arugula, tomatoes, avocado and fig butter for a hint of sweetness?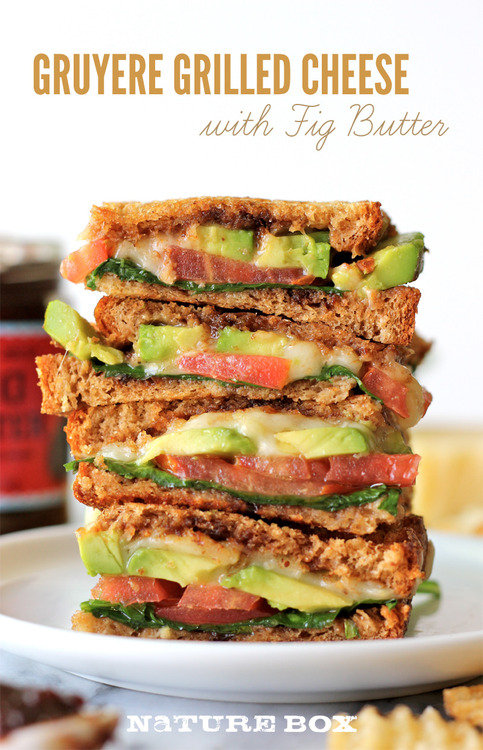 Serves: 4
Cook time: 6 minutes
Ingredients:
2 tablespoons olive oil
8 slices whole wheat bread
4 tablespoons unsalted butter
4 tablespoons fig butter
1 cup arugula
2 roma tomatoes, thinly sliced
2 avocados, halved, seeded, peeled and thinly sliced
2 cups shredded gruyere
Directions:
1. Heat olive oil in a grill pan over medium-high heat.
2. Spread 1/2 tablespoon butter over 1 side of each bread slice. Turn the slices over and spread 1/2 tablespoon fig butter on each slice. Top with arugula, tomatoes, avocado and gruyere, and then top with another slice of bread, buttered side up, to create a sandwich. Repeat with remaining slices of bread to make 4 sandwiches.
3. Place sandwich in pan and grill, flipping once, until bread is golden and filling is heated through, about 2-3 minutes per side. Serve immediately.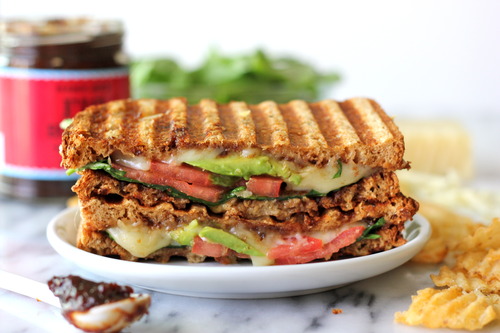 Pics or it didn't happen! When you whip up this recipe, post it on Instagram or Facebook with the hashtag #natureboxrecipe so we can like and reshare it!
Get more healthy ideas and delicious snacks by joining NatureBox. Sign up today to get 50% off your first box!