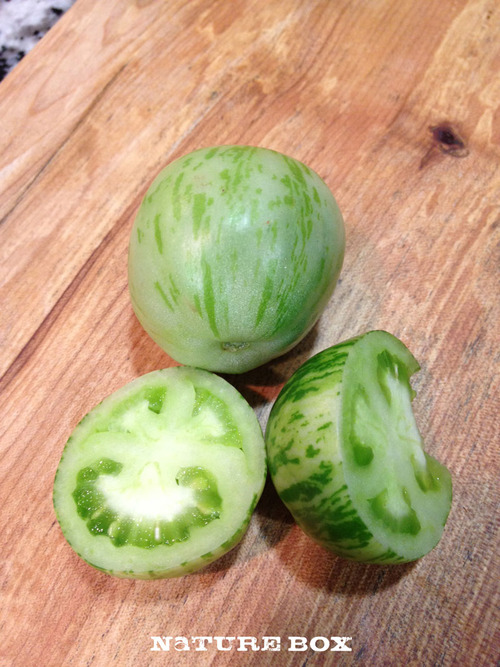 What are these juicy little green guys, you ask?
They're green zebra tomatoes!
First bred in the 1980s, this variety of tomato is created from four different heirloom tomatoes. They're roughly the size of a golf ball and can be purchased at a farmer's market or from your local community supported agriculture programs (or CSA's).
How do they taste?
Picked sooner, green zebra tomatoes are tart and zingy with a slightly-sweet finish. When vine-ripened a bit longer, they become sweeter. Overall, they pack a full, rich flavor that's unlike any other tomato.
When are they ripe?
These are ready to be picked when they're firm yet yielding, and when the light green stripes start to turn yellow. The bottoms will also begin to lightly blush.
Looking for some tasty tomato recipes? Check out our ideas!
Get more healthy ideas and delicious snacks by joining NatureBox. Enter coupon code NATURE for 25% off your first month subscription!
Amanda really wants to help you cook delicious foods and sustain a healthier lifestyle. When she's not goofing around on Twitter she's probably noshing on the pile of NatureBox snacks at her desk.