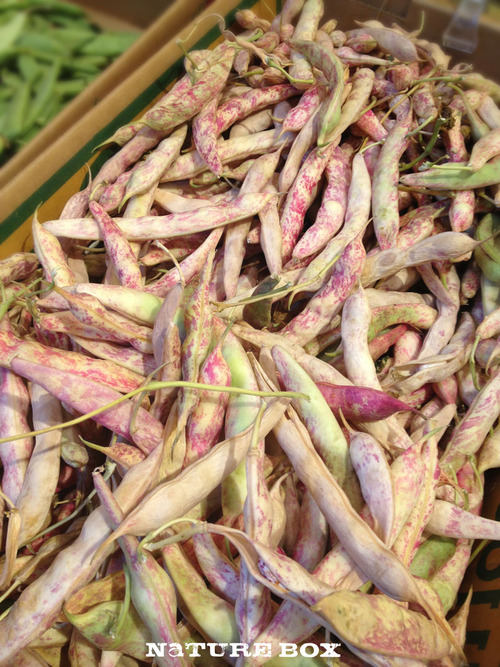 What are these speckled pod-looking things, you wonder?
They're cranberry beans!
Also known as shell beans and in Italian borlotti, these legumes get their name from their reddish/purplish specks. The beans are pretty similar to pinto beans in terms of texture and size. They're also mild and slightly nutty in flavor.
You can look for these at your local gourmet grocery. It's easier to find the dried variety year-round but if you'd prefer fresh beans, keep an eye out for them in the late summer to early fall!
What's their nutritional value?
Like many legumes, cranberry beans are an excellent source of fiber – each one-cup serving has just over 17 grams of fiber, which is 71 percent of your recommended Daily Value (DV). Each serving also has 241 calories and 16.5 grams of protein or 33 percent DV.
How do you cook them?
These can be prepared similarly to other beans. If using dried cranberry beans, they'll need an overnight soak. If using fresh beans, you can shell and boil them or shell and braise them. (Try using lots of garlic, herbs and tomato!)
Inspired to get cooking? Check out our recipes using beans!
Get more healthy ideas and delicious snacks by joining NatureBox. Sign up today to get 50% off your first box!
Amanda really wants to help you cook delicious foods and sustain a healthier lifestyle. When she's not goofing around on Twitter she's probably noshing on the pile of NatureBox snacks at her desk.