Homemade Whole Wheat Pizza Recipe
Video & Recipe by Kodjo Hounnake of Kodjo Workout
If you are looking for a low calorie alternative to greasy and heavy take-out pizza, you should try making your pizza at home with organic and fresh ingredients.Your local grocery store or farmers market should carry organic foods and products; if not, look online.
If your budget doesn't allow you to shop 100% organic, you can still make smart and healthy food choices. Select whole ingredients and avoid preservatives as much as possible by reading the labels on pre-made doughs and sauces. In addition, purchase vegetables that are in season when you're making this recipe.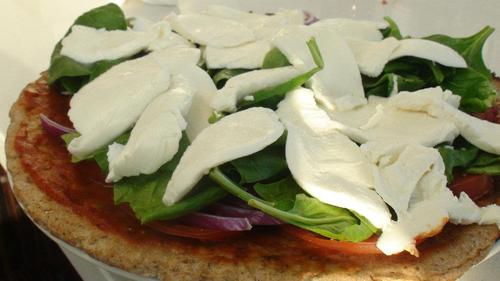 INGREDIENTS:
Whole wheat pizza crust
½-1 cup of tomato sauce (depending on how saucy you like your pizza)
2 tomatoes, sliced
½ large red onion, thinly sliced
Baby spinach leaves
1 pound of fresh mozzarella cheese, sliced
2 tbsp of extra virgin olive oil
DIRECTIONS:
Preheat oven to 450*. Brush the extra virgin olive oil all around the edge of the crust, ~1" from the edge. Spread the tomato sauce on and then layer the onion, spinach, tomatoes, and fresh mozzarella.
Bake pizza in the preheated oven for 10-15 minutes until the crust is golden brown and the cheese is melted and lightly toasted. Let the pizza rest for a few minutes before slicing so the toppings don't all pull off the pizza as soon as you cut into it.
*WATCH THE VIDEO HERE TO SEE JUST HOW EASY THIS IS!*
About the author: Kodjo is a fitness enthusiast turned health blogger. When he is not or blogging about home workouts and healthy eating, he is likely eating healthy and working out at home. His wish is to contribute as much as possible to the fight against obesity in America. He manages a healthy lifestyle blog at Kodjoworkout.com. Follow him on Twitter for daily health tips and motivation at @Kodjoworkout. Check out his 4-week home workout program to help people lose weight and stay in shape right in the comfort of their homes.
Get more healthy ideas and delicious snacks by joining NatureBox. Enter coupon code NATURE for 25% off your first month subscription!