The Hawaiian-inspired sauce for this dish is surprisingly easy to make and isn't overly sweet, like some of the store-bought sauces. The NatureBox BBQ Kettle Kernels or Roasted Kettle Kernels add a wonderful crunch factor, helping to marry the flavors together nicely.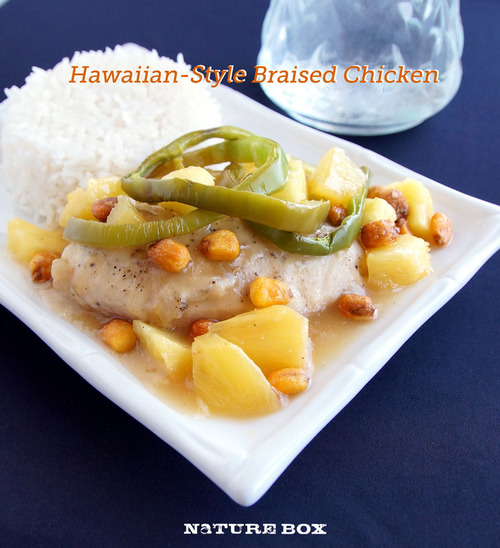 Serves: 4
Prep time: 10-15 minutes
Cook time: 30 minutes
Ingredients:
4 boneless, skinless chicken breasts
1/4 cup all-purpose flour
1/2 teaspoon salt
1/4 teaspoon ground black pepper
2 tablespoons canola oil
1/4 cup granulated sugar
1/4 cup brown sugar
1/4 teaspoon ground ginger
2 tablespoons cornstarch
1 cup water
2-1/4 cups freshly cubed pineapple
1/3 cup apple cider vinegar
1 tablespoon soy sauce
1 green pepper, sliced into rings
Directions:
1. Preheat oven to 350 degrees F.
2. Add flour, salt, pepper and chicken breasts to a plastic resealable bag. Shake until coated evenly.
3. Heat oil in a large skillet over medium heat. Saute chicken breasts until light golden brown, about 3 minutes per side. Transfer to a lightly greased 9 x 13 inch baking dish.
4. Add white and brown sugar, ginger and cornstarch to a small saucepan.
5. Juice 1/4 cup of chopped pineapple into a small bowl (if you are using canned pineapple, drain 1/4 cup pineapple juice).
6. Add pineapple, 1 cup water, vinegar and soy sauce to the sauce pan over medium heat. Whisk until the mixture dissolves and is well blended, about 2 minutes.
7. Remove from heat and pour the sauce over the chicken. Top with green bell pepper slices and pineapple. Bake uncovered for 25 minutes, then remove from the oven and top with Kettle Kernels. Serve warm over jasmine rice.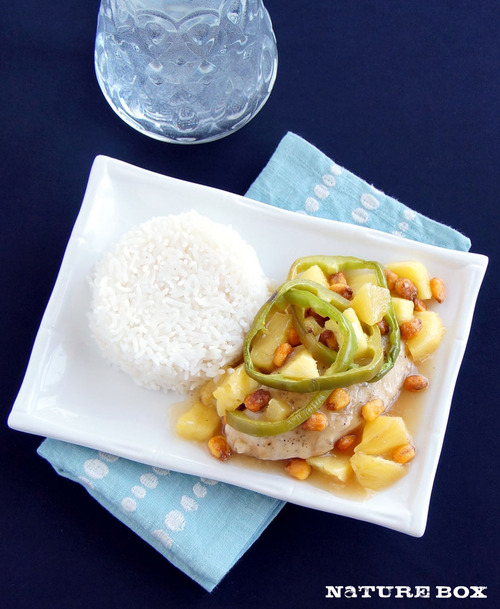 Get more healthy ideas and delicious snacks by joining NatureBox. Enter coupon code NATURE for 25% off your first month subscription!
Kristianne is the founder of My San Francisco Kitchen, where she shares everyday recipes that focus on cooking/baking from scratch.