This healthy hot chocolate is super simple to prepare. And it's so creamy and delicious…without the guilt!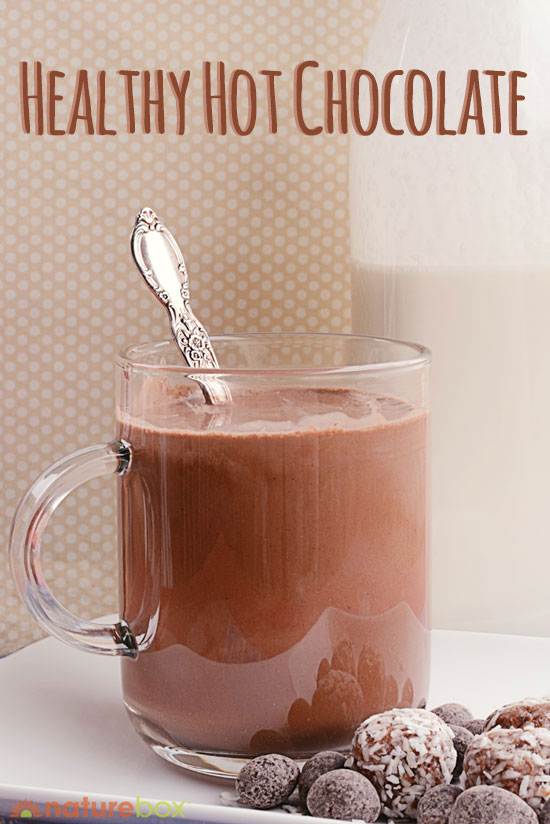 Now that we're in the midst of those brutally cold winter days (I'm in Texas and it's been in the teens…now that is unusual), I'm always looking for ways to warm up, but not get carried away with over-indulging. I love making this healthy hot chocolate for my kids and I always enjoy a mug myself. It is delicious…different than your average hot chocolate, but very tasty!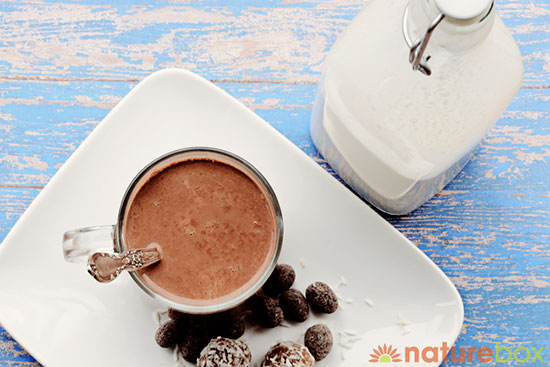 Serves: 2
Ingredients:
2 cups vanilla almond milk (unsweetened)
1/4 cup unsweetened cocoa powder
1/2 teaspoon vanilla extract
1/2 teaspoon cinnamon
raw turbinado sugar to taste (I use a tablespoon per serving)
Directions:
1. Heat almond milk in a saucepan over low-medium heat, whisking constantly so it doesn't scald.
2. Add in other ingredients and whisk until combined.
3. Heat about five minutes longer, then remove from burner.
You can add additional Stevia if you prefer it a bit sweeter.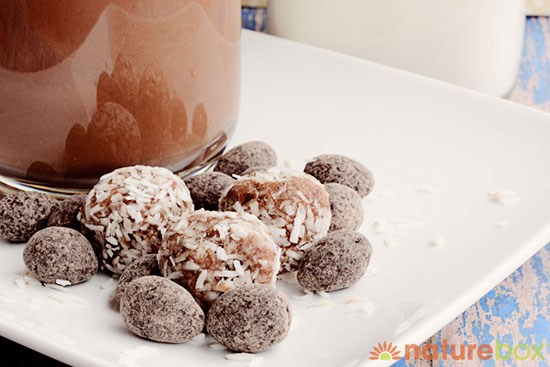 For a triple sweet treat, we love to serve our hot chocolate with a few NatureBox Coconut Date Energy Bites and NatureBox Dark Cocoa Almonds.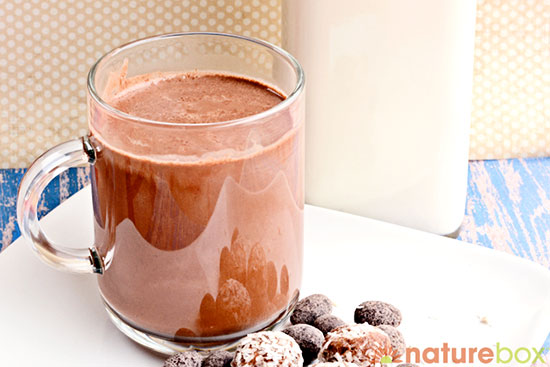 Here's to a warm and cozy winter…curled up with a big mug of healthy hot chocolate!
Get more healthy ideas and delicious snacks by joining NatureBox. Sign up today to kick off your membership with a free trial!
Kristi Dominguez is a former event planner and part-time graphic designer. She blogs at IShouldBeMoppingTheFloor.com where she tackles projects to turn her cookie-cutter home into something more exciting. A lot more exciting.