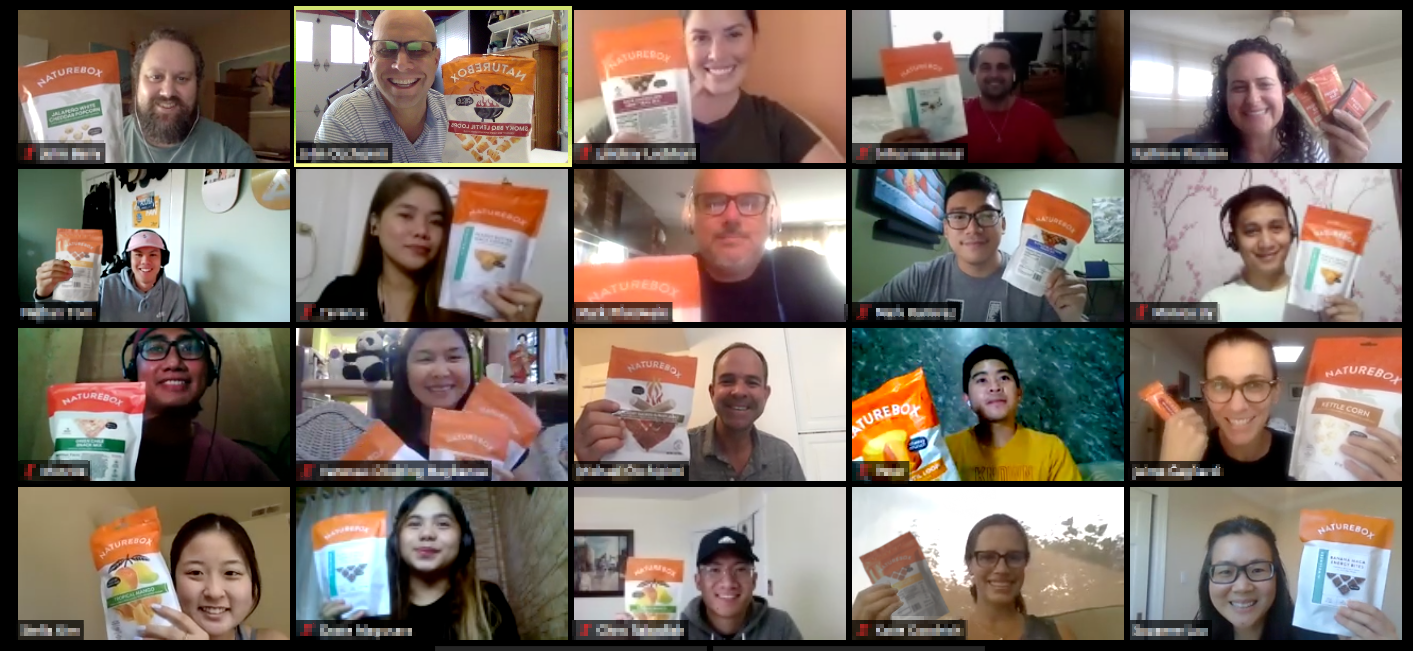 Remember those little perks of the office you took for granted and miss the most since you started working from home? Perks like: 
Grabbing a coffee and bagel with a coworker first thing in the morning.

Team meetings where you left super motivated to tackle the project at hand.

Communal snacks in the office kitchen that everyone gathered around to talk about their day.
One thing we can't bring back? Large gatherings and in-person meetings. Something we can? A tried-and-true office perk: snacks (at home). But now, it's time to upgrade them with healthier alternatives that still taste delicious. How? With Perks by NatureBox. Give your team the gift of health with a free NatureBox membership. The best part? It costs $0 for companies to sign up.
Healthy habits
At the start of this year, you probably imagined remote working would be easy. You get to stay at home all day with your dog. You can make your own lunches and don't have to resort to quick, unhealthy options. You might even hop on a team call while you take your afternoon walk. But that's not what actually happened… 
The reality? A whole lot of sitting. Pacing from one room to the next because you can't leave your apartment. Frequent trips to the kitchen out of sheer boredom for yet another sugary snack. You picked up more than a few unhealthy habits in quarantine. But you're not alone. 
More and more remote workers are discussing the effect this pandemic is having on their physical, mental, and emotional health. That's why it's time we all take back control of our well-being, especially as we move into the winter months. If your company has been on the fence about how to prioritize employee wellness, you can do so with our new program: Perks by NatureBox.
Healthy perks
It's easy to manage employee morale and motivation in the office. Keeping teams engaged and healthy while they work remotely? Much more challenging. But, of course, we stepped up to the plate with Perks by NatureBox. 
Our new program allows companies to offer a morale-boosting perk (healthy, delicious snacks!) to employees without having to supply them directly like with in-office snacks. Your employees get their pick of wellness snacks and adaptogenic treats to fuel their mind and body for the entire workday. And since they come from NatureBox, not only are the snacks good, but they're also good for you. 
Choose from any of our traditional healthier for you snacks with no artificial flavors, colors, or sweeteners, no corn syrup of any kind, no hydrogenated oils, and no MSG. Plus, our new adaptogenic snacks that taste great and deliver functional benefits like: 
Stress relief

Mood enhancement

Anti-inflammation

Focus

Brain and cognitive support
A huge bonus? The Perks program doesn't cost anything for companies! When you sign up, it gives each of your employees a free NatureBox membership. A typical annual membership is $30, which gives 20%-40% off all purchases, early access to new products (like our adaptogenic protein bars), and free shipping on orders of $25 or more. 
Keep your teams happy, healthy, and engaged with tasty treats that work for, not against, them. You can learn more and sign up for the FREE Perks by NatureBox program at https://try.naturebox.com/perks-at-naturebox/