by Amanda Natividad, NatureBox Editor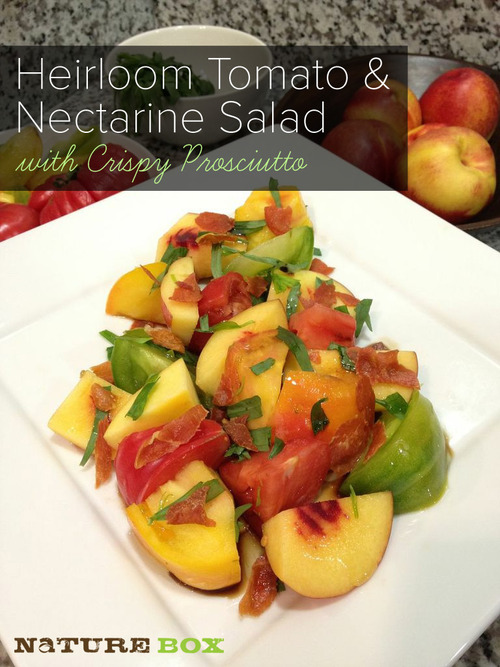 Serves: 4
Cook time: 15 minutes (for the prosciutto)
Ingredients:
6 slices prosciutto (about 3 ounces)
3 heirloom tomatoes
3 nectarines
4 sprigs tarragon
1/4 cup olive oil
1/4 cup balsamic vinegar
Directions:
1. Make crispy prosciutto: Preheat oven to 375 degrees F. Arrange prosciutto slices on a parchment-lined baking sheet. Bake until the color darkens to a deep pink, 15 minutes. Using tongs, carefully transfer prosciutto to paper towels to drain and cool, about 5 minutes. Using your hands, crumble the prosciutto into a bowl. This recipe makes about 1/2 cup of crispy prosciutto.
2. Slice the tomatoes and nectarines into large bite-size chunks. Tear the tarragon leaves. (None of this needs to be perfect. In fact, imperfection is better because it makes the finished dish look more rustic.)
3. In a large bowl, gently toss together the tomatoes, nectarines and tarragon. Drizzle on olive oil and balsamic vinegar. Sprinkle crispy prosciutto on top. Serve.
Get more healthy ideas and delicious snacks by joining NatureBox. Enter coupon code NATURE for 25% off your first month subscription!
Amanda really wants to help you cook delicious foods and sustain a healthier lifestyle. When she's not goofing around on Twitter she's probably noshing on the pile of NatureBox snacks at her desk.