Exploring and Decoding the Milk Muddle
by NatureBox Nutritionist Kat Brown, MS RD RYT
Is it just us or does it feel like there has been an explosion of milk products and milk alternatives lately? It's no longer just about the number of choices in the dairy aisle- a large assortment of shelf-stable milk alternatives have popped up outside of the milk case. This is great since as consumers, we have a variety of tastes, preferences, and needs for different kinds of milk. The average grocery store carries milk products that vary by fat content, flavorings, organically or conventionally produced, lactose content, or non-dairy milk alternatives.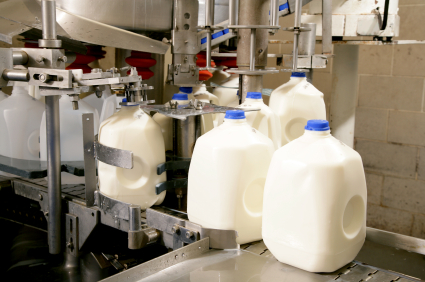 Organic and "Designer" Milks
Organic and "designer" milks cater to those who are looking for a hormone and antibiotic free source or certain health criteria. Organic milk has been noted to have a lesser environmental impact and may contain lower amounts of saturated fat. "Designer" milks are currently being engineered to have more beneficial fat content, lower lactose content,  and be less allergenic. Some lowfat or nonfat milk on the shelf has been altered by adding milk solids to give it a creamier mouthfeel (like that of higher fat dairy) without the saturated fat content.
Milk Alternatives
The 2010 Dietary Guidelines for Americans encourage lowfat and fat free dairy and fortified soy intake. What if you can't tolerate, or choose for other reasons, not to have milk or even soymilk? Let's examine the milieu of various milk alternatives- of which there are many.
Soymilk is the most commonly used milk alternative. It is similar to cow's milk in protein content, and is even considered part of the milk group per the Dietary Guidelines due to fortification of key nutrients calcium, vitamin A and D, which bring the nutrition content up to that of cow's milk. Research suggests that isoflavones in soy may have heart health benefits. It also has similar mixing and cooking properties to cow's milk, so can be substituted easily in recipes.  
Other, less frequently used alternatives abound. The good thing for those who don't tolerate lactose is that all milk alternatives are lactose free. Check the label to ensure that the product has been enriched or fortified with at least 300 milligrams of calcium and 100 international units of vitamin D per cup. You'll find this on the lower panel of the Nutrition Facts label- look for 30% or higher of the daily value for calcium, and 25% or higher for vitamin D. Like cow's milk, many milk-alternatives come in flavors (such as vanilla or chocolate) and may have added sugars or ingredients. Be sure to check the label to ensure that your choice of flavored milk-alternative is not overly high in sugar.
Here's a comparison of nutrient profiles for milk and milk alternatives per 8 ounce serving. Keep in mind that brands and flavors may vary in their nutritional content so be sure to check the label.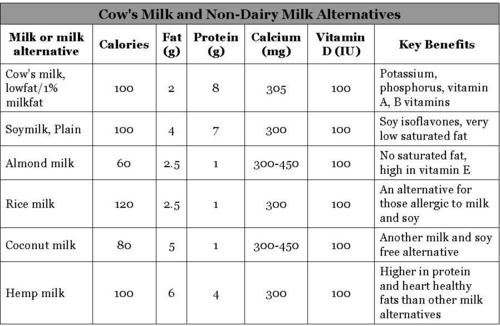 Milk and milk alternatives are an important part of a well-balanced diet. Now that you're an informed consumer, you'll be able to make the choice that fits your lifestyle, health needs, flavor preferences, and budget – with a little trial and error of course!
Get more healthy ideas and delicious snacks by joining NatureBox. Enter coupon code HEALTHY for 25% off your first month subscription!
Kat Brown MS RD RYT is a San Francisco Bay Area based Registered Dietitian and Yoga Teacher. As a nutrition counselor, writer, cook, and yogini she seeks to inspire others to nourish themselves and live balanced, fulfilled lives.