Looking for a breakfast use for sweet potato? Here, we mashed it into pancakes with almond milk, cinnamon and NatureBox Honey Nut Medley!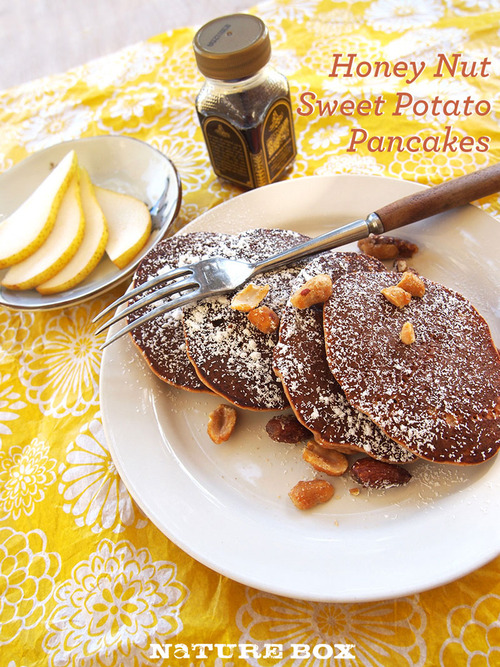 Serves: 2 (Makes around 8-10 4-inch pancakes)
Prep time: 15 minutes
Cook time: 25-30 minutes
Ingredients:
1/4 cup NatureBox Honey Nut Medley, crushed
1 cup sweet potato, cubed
2 eggs
2 tablespoons peanut or almond butter
1 teaspoon baking powder
1/4 cup almond milk (or coconut milk)
1 teaspoon cinnamon
1/4 teaspoon ginger powder
Olive oil
Directions:
1. In a small saucepan over medium heat, boil the sweet potato with enough water to cover. Cook until fork tender, about 15 minutes. Drain immediately and mash.
2. In a mixing bowl, beat the mashed sweet potato with the peanut butter and milk. Add the eggs, baking powder, cinnamon and ginger and whisk till mixed thoroughly.
3. Heat a non-stick skillet over medium heat and add a teaspoon of oil. When the pan is hot, add 3-4 tablespoons of batter to the pan. After 3 minutes or golden brown, flip and cook for another 2 minutes. Repeat with the rest of the batter.
4. Pair with your favorite fixings (maple syrup, butter, powder sugar, ice cream – the sky's the limit!) and garnish with more honey nut. Enjoy with a loved one!
Get more healthy ideas and delicious snacks by joining NatureBox. Enter coupon code NATURE for 25% off your first month subscription!
A devout student of flavor, Tsz documents her food adventures at Gastrophoria. In the rare moments she's not planning her next meal, she grows businesses through unique design solutions.