The idea of making bread from scratch may be daunting to some but I keep it simple with this recipe. The honey and warm water quickly activate the yeast, and your stand mixer makes kneading a breeze.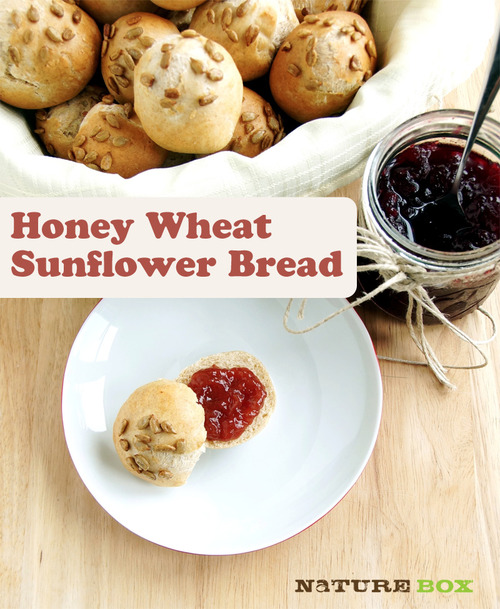 Makes: 16 rolls
Cook time: 18-20 minutes
Ingredients:
2 packages of active dry yeast (about 4 teaspoons)
3 tablespoons honey
1 cup warm water
1 teaspoon salt
1/4 cup olive oil
1 egg
1 cup whole wheat flour
2 to 2-1/2 cups all-purpose flour
1 egg white (for eggwash)
Directions:
1. In a large bowl, dissolve yeast and honey in warm water. Let stand 7 minutes until frothy.
2. In a stand mixer fitted with a hook attachment, add salt, olive oil, egg and whole wheat flour, stirring on low.
3. Add 2 cups all-purpose flour a little at a time. When all of the flour is added to the dough, mix on medium. The dough is finished mixing when it is elastic, and wraps around the hook instead of sticking to the sides of the bowl, about 8-10 minutes. Add more flour as needed until smooth.
4. Grease a large mixing bowl with olive oil and place the dough inside. Cover with a towel and let rest for 1 hour to rise.
5. Punch the dough down and shape into 2-inch balls with your hands, or by circling your hand over the dough on a smooth, clean surface.
6. Preheat oven to 375 degrees F. Place the dough balls onto a greased baking sheet, about 2 inches apart. Cover with a towel and let rise another 30 minutes.
7. Remove the towel and brush each roll with egg whites. Sprinkle sunflower kernels on the tops and place in the oven. Bake until the tops are golden brown, about 18 minutes. Remove from oven and cool on a wire rack.
Tip: Store in a paper bag for 2 days, or freeze in a freezer bag for later use.
Pics or it didn't happen! When you whip up this recipe, post it on Instagram or Facebook with the hashtag #natureboxrecipe so we can like and reshare it!
Get more healthy ideas and delicious snacks by joining NatureBox. Sign up today to get 50% off your first box!