There are few things in life sadder than excitedly picking up a bag of fresh peaches from the grocery only to bite into a peach… and be faced with a too-tart, too-dry, too-hard fruit.
Never again! Those days of unripe peaches are over. Read on for three quick and ways to determine whether those peaches you're eyeing are ripe, and for some storage advice.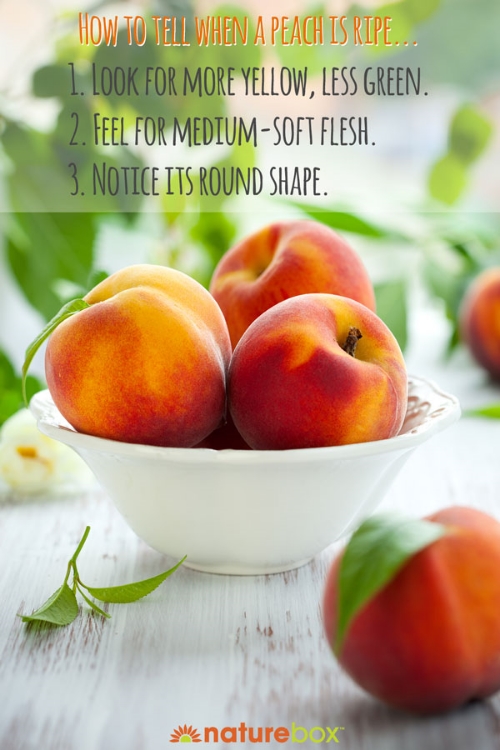 1. Look for a predominantly yellow color. Although some varieties of peaches will still have slightly-green color when ripe, you should generally look for a mostly-yellow color. You know the larger reddish spot? That's the side that faces the sun. The side that doesn't face the sun will be mostly yellow.
2. Feel for medium-soft flesh. And while you're at it, take a good whiff. A ripe peach will smell fragrant, sweet and, you know, peachy.
3. Notice if it's round. As a peach ripens, it becomes rounder and more even in shape.
Storage tips: If you happen to buy a few unripe peaches, keep them at room temperature until they soften and develop their peachy aroma. Once ripe, you can store them in the fridge for up to a week or so.
Want more? Read how to determine when strawberries are ripe!
And check out our easy fruit recipes.
Get more healthy ideas and delicious snacks by joining NatureBox. Sign up today to get 50% off your first box!