In a perfect world – or at least, a perfect grocery-shopping trip – every batch of strawberries you pick would be perfect. Plump, red, totally juicy and super sweet. But alas, not every fruit-buying errand is perfect.
But it can be close.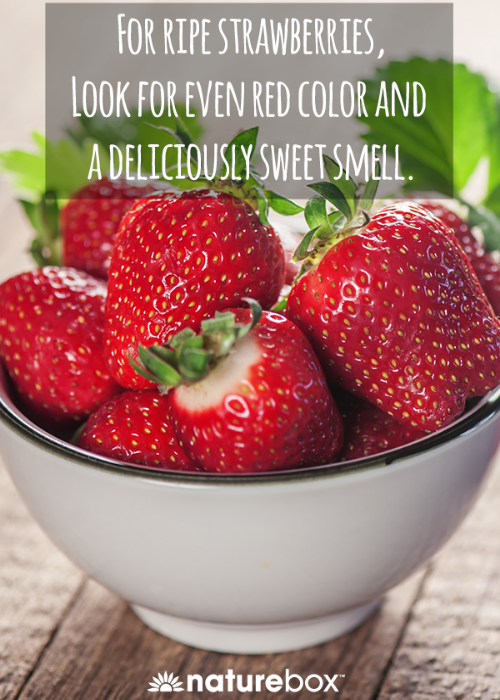 On your next grocery trip look for these three features in that batch of strawberries you want to pick up:
1. Evenly deep red: A ripe strawberry will be a healthy, deep red all around. If it looks too green or too white near the stem end, chances are, you'll be snacking on a too-tart fruit.
2. Sweet smell: Take a whiff. (If anyone sees you, just take comfort in knowing you'll probably never see that person again.) Does it smell fragrant, sweet, totally fruity? Yes? Then you're got a winner!
3. In-season: Depending on where you live, it'll be late in the winter until summer. If you shop at your local farmer's market you'll know when strawberries are in season based on their availability.
A few other little tips:
Don't pay attention to shape. Sometimes even a really strangely shaped bulb will taste like the perfect treat.
Don't buy the batch if you see any mushy spots. This means the strawberries are nearing the end of their shelf life and on the cusp of growing mold.
Don't mind the size. In this case, size doesn't matter! Big and small strawberries alike can be equally delicious – as long as they're ripe.
Still curious? Check out our easy tip for hulling strawberries!
Get more healthy ideas and delicious snacks by joining NatureBox. Sign up today to get 50% off your first box!