We're suckers for strawberries! They're high in fiber, potassium and vitamin C. In fact, eight strawberries contain more vitamin C than an orange, and a serving of strawberries has twice as much fiber as a serving of grapes!
Delicious as these juicy fruits are, optimizing their preparation isn't exactly common sense. Sure, you can simply slice off the leaves, but doing so means you're also snipping some of the strawberry.
Next time, try hulling your strawberries with a straw! Simply poke the straw through the bottom of the strawberry and push straight and upward to push out the stem, as pictured below: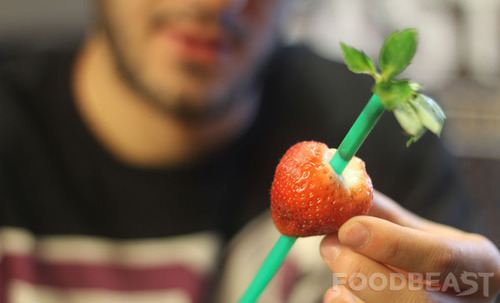 Need some help? Check out the video!
What else do we love? Get the skinny on more super foods!
Get more healthy ideas and delicious snacks by joining NatureBox. Sign up today to get 50% off your first box!