The first time I baked with glucose, I was horrified by the stickiness of it. Even left at room temperature, the consistency of this stuff is like solidified honey. But stickier. And thicker. (For the record, this was used in a recipe for Momofuku Milk Bar's Compost Cookies so the stubborn adhesion was worth the trouble.)
It wasn't until the third time I baked up that cookie recipe that it occurred to me to try an extra little step to make the prep work easier: cooking spray.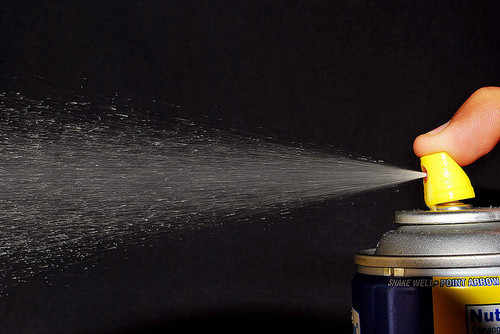 Before scooping out the two tablespoons glucose I needed, I lightly sprayed the inside of my measuring spoon, and marveled at how easily the tacky sweetness slid out.
From then on, I declared cooking spray my best friend and excitedly found other, less conventional uses for it. Here are my five favorite kitchen uses for cooking spray — try an all-natural spray or better yet, add olive oil to a spritzer:
1. Keep cheese and citrus from sticking to the grater: Add a small spritz of cooking spray to the smooth side of your grater or zester before grating cheese, suggests Food Republic. Better yet, try this same trick when zesting citrus fruits. Those stubborn, bright bits of flavor will slide right out of the grater.
2. Prevent syrups from sticking to measuring cups:Coat the inside of a measuring cup or spoon with cooking spray before adding thick sweeteners like syrup, honey, corn syrup and even glucose. Gaze in wonder at how easily the liquid slides out.
3. Avoid stains in food storage containers: Spray the inside of your food storage container before adding foods and sauces that normally leave stains, like tomato-based sauces and curries (nothing gets turmeric out!) That impossible-to-scrub-out orange-tinged stain will never be a problem.
4. Use it as a cleaning agent: Cooking spray comes in handy for cleaning soap scum and oil-based paints. To nix soap scum, spray tiles or shower doors with cooking spray, wait about 15 minutes, and clean with dish-washing soap and water. It also loosens oil-based paints, making for easier cleaning after messy paint jobs.
5. Silence creaking and squeaking: Use cooking spray in place of WD-40 for squeaky doors and hinges. Simply spritz the hinge and wipe off the excess.
Check out our other helpful how-to's!
Get more healthy ideas and delicious snacks by joining NatureBox. Sign up today to get 50% off your first box!
Amanda really wants to help you cook delicious foods and sustain a healthier lifestyle. When she's not goofing around on Twitter she's probably noshing on the pile of NatureBox snacks at her desk.
Cooking spray photo via Flickr user chickenwire44.