I have this dream of one day living in a home that always has fresh-cut flowers on the dining table, homemade lemonade in the fridge, and a full herb garden in the backyard.
But alas, I have zero gardening skills and knowledge. It took me a week of Googling to learn that my favorite flower is the hydrangea, I buy $5 pots of flowers when I'm feeling fancy, and for reasons unbeknownst to me, I'm terrified of ladybugs. I can, however, make a mean lemonade, but that's beside the point.
So when I finally learned that it's possible to grow certain vegetables in a water glass or jar I was in disbelief. My mind was blown when I successfully grew green onions in a few days with almost no effort.
But what's even better than that? You can use this same trick on four other vegetables. Read on to learn how you can grow five different veggies from your kitchen counter.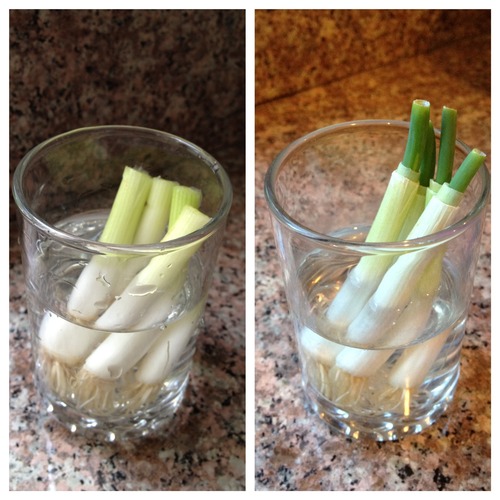 When you use the green tops of green onions, save about an inch of the root ends. Place them in a glass or jar (I used a 3-ounce glass, a loner that was no longer part of a set) and cover halfway with water. Be sure to change the water every day. Watch them start to sprout as early as the second day! You can use them when they reach the length you need, which will probably take 5-7 days. (Pictured above: my green onions on day 1 and day 3.)
This same method also applies to Romaine lettuce, cabbage, celery and bok choy:
1. Save the root ends of the vegetable.
2. Place in a container (glass, jar, wide dish) and cover with about 1 inch of water.
3. Change the water once a day. Start seeing results within a day!
Get more healthy ideas and delicious snacks by joining NatureBox. Sign up today to get 50% off your first box!
Amanda really wants to help you cook delicious foods and sustain a healthier lifestyle. When she's not goofing around on Twitter she's probably noshing on the pile of NatureBox snacks at her desk.