When I first moved to the Bay Area I envisioned spending most of my weekends at the local farmer's market. I imagined dining exclusively at restaurants serving only sustainable foods, and I pictured myself drinking freshly-made juice every day.
So I don't always go to the farmer's market. And though they're common enough, farm-to-table restaurants aren't exactly on every street corner. But I'm working on the juice thing. One green juice at a time. One strangely savory, spinach-filled green juice at a time.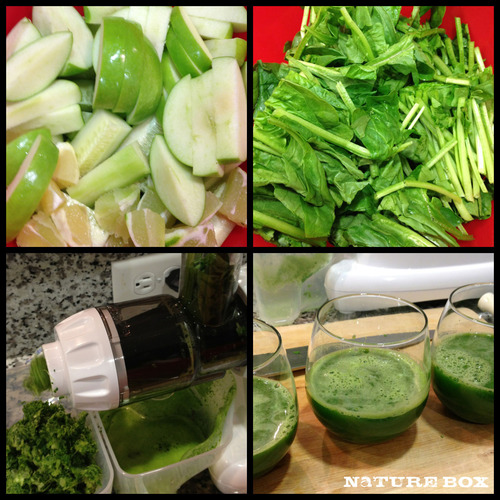 But my juice-making habits didn't happen instantaneously with my move. I considered several factors – from type of machine to types of juice recipes – before taking the plunge. And so, here are five ideas to to think through before buying a juicer:
1. Know the difference between centrifugal and masticating juicers. Centrifugal juicers are the most common and generally, the most inexpensive. In this type of juicer, a flat cutting blade spins at a high speed to separate juice from the solids, or pulp. These tend to be louder but can work more quickly than masticating juicers.
Working at low and quieter speeds, a masticating juicer essentially squeeze juice out of the pulp. This process tends to be a little slower but it produces less waste since the juicer's action is squeezing instead of grinding and separating.
2. Think about the price of various juicers. How much are you willing and able to spend on a juicer? You don't need to spend $1,000 on a good quality juicer, but do take some time to sift through user reviews on the manufacturers' websites, retailers' websites, and/or appliance and gadget publications.
Keep in mind that this is a purchase that will last you a few years and ask yourself if the appliance is worth that amount of time. For instance, let's say a $250 juicer lasts for two years (which is a standard warranty on this type of appliance). Let's say you end up making four servings of juice two times per month, which equates to 96 servings of juice per year. That ends up costing about $1.30 per serving of juice plus the cost of produce. Broken down that way, is that a price you would be comfortable with? If not, what price would you be comfortable with?
3. Being honest with yourself. Why do you want to make fresh juice? Do you think you're going to use this appliance as often as you'd like? While I don't make fresh juice every day, I'm comfortable with using the juicer a handful of times each month.
4. Consider the cost of produce. Do you live in an area where you have access to fresh produce? If not, do you have a solution to ensure that you'll have regular access to fruits and vegetables? This might be a good time to think of signing up for your local community support agriculture program (CSA) or to find regular farmer's markets near your home or work. Having quick access to these resources may help make juice-making easier and more pleasant.
5. Buy juice and look up recipes. Before you make the commitment cost it might help to buy some cold-pressed juices at your local specialty grocery, coffee shop or juice bar to determine if you really do like these drinks. Be sure to look for juice that is not pasteurized. During pasteurization, the juice is heated to a high temperature for a short period of time. While this is great for killing bacteria and mold, the process, unfortunately, destroys vitamins and nutrients as well.
It's also fun to look up recipes. Doing this might just make you excited about the idea of making your own fresh juice. I love making carrot-orange juice and watermelon-mint juice. Simply imagining those flavor profiles makes me excited to chop up fresh produce and crank on the juicer.
If you do end up buying a juicer be sure to just have fun! Feel free to comment below on what juicer you decided on, and if you have any awesomely thirst-quenching ideas.
Still hungry? Check out our other helpful how-to's!
Get more healthy ideas and delicious snacks by joining NatureBox. Sign up today to get 50% off your first box!
Amanda really wants to help you cook delicious foods and sustain a healthier lifestyle. When she's not goofing around on Twitter she's probably noshing on the pile of NatureBox snacks at her desk.