by Amanda Natividad, NatureBox Editor
I love kale just as much as the next person. It's low in calorie and high in iron and fiber, and you can prepare it a number of ways: raw, sautéed or even in chip form. But you rarely see it utilized in comfort food. Here, I lightly sautéed and baked it into a mac 'n cheese that uses almond milk rather than whole milk. The result? A slightly-nutty, lighter-on-your-tummy and oh-so-gooey dish. Try it out!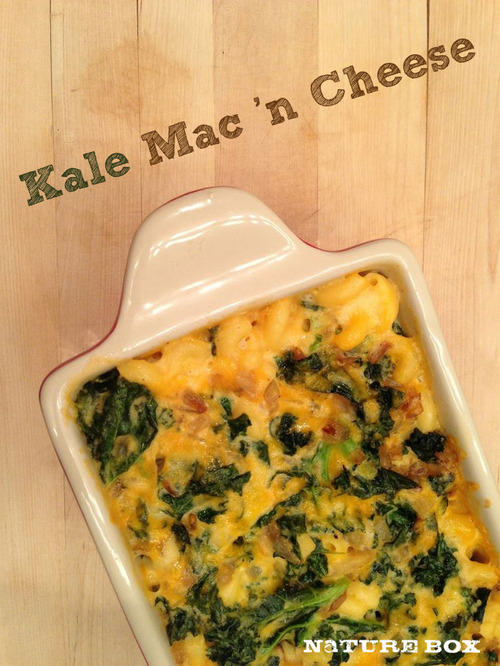 Serves: 4-6
Cook time: 35 minutes
Ingredients:
8 ounces elbow macaroni

1 tablespoon and 3 tablespoons olive oil, divided

1 cup chopped onion

10 ounces kale, leaves torn into 1" pieces (about 1 bunch)

1 tablespoon minced garlic (about 2 cloves)

3 tablespoons all-purpose flour 

2-3/4 cups unsweetened almond milk

2 cups grated sharp cheddar cheese

1/4 teaspoon cayenne pepper

1/2 teaspoon salt

1/2 teaspoon pepper
Directions:
1. Preheat oven to 375 degrees F. Set aside an 8 x 8 inch or 7 x 11 inch baking dish (1.5-quart or 2-quart baking dish).
2. Bring a medium saucepan of salted water to a rolling boil. Add macaroni and cook until al dente, about 4 minutes. Drain, add to the baking dish and set aside.
3. Meanwhile, add 1 tablespoon olive oil to a sauté pan over medium heat. Add the onions and cook until they start to soften, about 3 minutes. Stir in the kale and cook until slightly wilted and bright green, about 3 minutes. Season with a pinch of salt and pepper, or to taste. Stir in the minced garlic, turn off heat and set aside.
4. In a medium saucepan (use the same one you used to cook the pasta!) over medium heat, mix the flour and remaining 3 tablespoons olive oil. Stir frequently until the smooth mixture is light tan and smells slightly nutty, about 3-4 minutes. Slowly whisk in the unsweetened almond milk and bring to a low simmer, about 5 minutes. Stir in the cheese, cayenne pepper, salt and pepper. Turn off heat.
5. Stir the kale-onion mixture into the macaroni. Pour the cheese sauce over the top. Bake for 20 minutes. Remove from oven and let rest 10 minutes before serving.
Get more healthy ideas and delicious snacks by joining NatureBox. Enter coupon code NATURE for 25% off your first month subscription!
Amanda really wants to help you cook delicious foods and sustain a healthier lifestyle. When she's not goofing around on Twitter she's probably noshing on the pile of NatureBox snacks at her desk.