Did you know you can eat sweet potatoes raw? Here, we sliced them thinly and added them to a bed of kale with black beans, diced red onion and corn. The crunchy veggies are then wrapped up tight in rice paper wrappers and accompanied with a spicy creamy dipping sauce. Enjoy!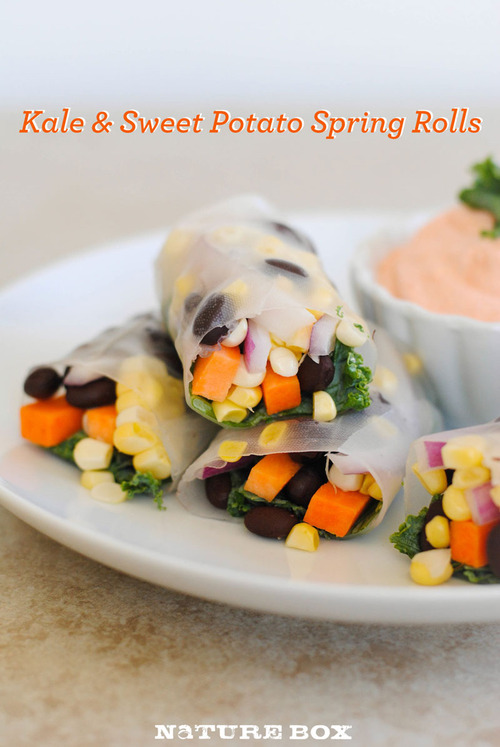 Serves: about 6 (or makes about 18 rolls)
Prep time: 25 minutes
Ingredients:
For the Spring Rolls:
18 rice paper wrappers
1 bunch kale, stems removed and leaves torn into large pieces
1 can (15.5 ounces) black beans, rinsed and drained
Kernels from 2 ears of corn (about 3/4 cup)
1 medium sweet potato, peeled and thinly sliced
1/2 red onion, thinly sliced
For the Dipping Sauce:
1/2 cup light sour scream
1-1/2 tablespoons hot sauce
Directions
1. Working one at a time, wet wrappers for 15 seconds and transfer to damp towel. Place kale in center of each wrapper and top with some beans, corn, sweet potato and onion. Bring the bottom edge of the wrapper tightly over the filling, rolling from bottom to top until the top of the sheet is reached, being careful not to tear the wrapper. Repeat with remaining wrappers and filling.
2. To make the dipping sauce, stir together sour cream and hot sauce. Serve spring rolls with sauce immediately.
Still hungry? Check out our free cookbook, 7 Hearty Kale Recipes!
Get more healthy ideas and delicious snacks by joining NatureBox. Enter coupon code NATURE for 25% off your first month subscription!
Lori is a Detroit-area food writer, recipe developer and restaurant reviewer. She's usually found in the kitchen cooking up something that undoubtedly involves beets, lemons or coconut for her blog, Foxes Love Lemons. Check out more of her recipes here.