This Chicken Noodle Soup is my kids' favorite for several reasons. They love that it has big chunks of chicken, no onions (ha…they have some sort of onion aversion), bite-sized noodles and tons of flavor. It's the soup that has them picking up the bowl to drink every last drop. It's great to warm those bellies in the colder temps.
I start this with chicken that I've already grilled. I buy it in bulk, grill a bunch and then freeze it for meals like this. I'm always the one in the middle of winter in a coat and gloves at the grill! But, it's a big time-saver.
Serves: 8
Prep time: 10 minutes
Cook time: 20 minutes
Ingredients:
2 tablespoons olive oil
3 large carrots, chopped
2 stalks of celery, chopped
2-3 large chicken breasts, grilled or cooked however you like and roughly chopped
1 bay leaf
8 ounces dry Angel Hair Pasta, broken into two inch lengths
64 ounces chicken broth
salt and pepper, to taste
1 tablespoon dried parsley (optional)
Directions:
1. Heat olive oil in large stock pot over medium-high heat. Add in carrots and celery and cook about five minutes, until they begin to soften.
2. Add in chicken breasts, bay leaf, and dry pasta…stirring to coat in oil (the pasta will break more in the process, but that's okay).
3. Pour in chicken broth. Add salt, pepper, and dried parsley and stir. Allow to simmer over medium until pasta is cooked, about 8-10 minutes.
4. Turn heat to low until ready to serve.
5. Remove bay leaf before serving.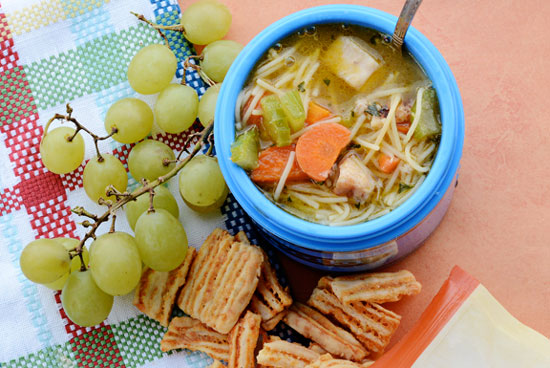 My kids love to take this to school in a thermos. It's delicious with NatureBox Asiago & Cheddar Cheese Crisps.
If you're home for the day, make a big pot and leave it on the stove for the grazers. Your house will smell yummy!
Looking for more delicious and fun ideas for the kids? Check out our other lunch box ideas!
Kristi Dominguez is a former event planner and part-time graphic designer. She blogs at IShouldBeMoppingTheFloor.com where she tackles projects to turn her cookie-cutter home into something more exciting. A lot more exciting.