We've partnered up with the lovely team over at LaurenConrad.com for some tips to snacking smarter this summer. We know it can get tricky to stay healthy with traveling and BBQ season officially here, but we've got you covered. Read on to learn how you can keep your health goals on track.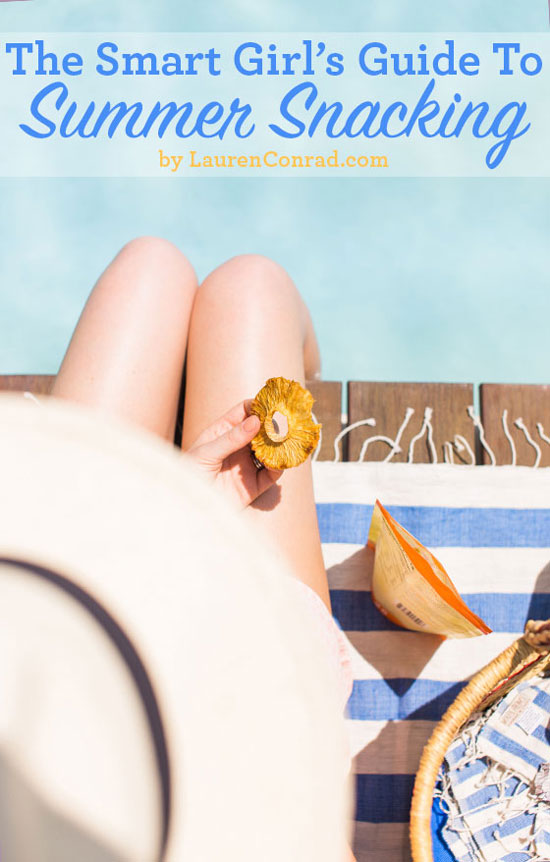 Tip #1: Satisfy Your Sweet Tooth – Completely depriving yourself of your favorite foods during the summer months is never a good idea. We think that you should be able to satisfy that sweet tooth… in a smart way, of course! So instead of hitting up that ice cream cone stand or chowing down on a churro (or 2), why not snack on NatureBox's Mini Belgian Waffles, Chocolate Quinoa Granola, Mocha Almond Bars or Lemon Almond Biscotti Bites. You'll get the sweetness you're craving without all of the extra calories (and inevitable guilt).
Tip #2: Portion Control – When you're trying to stick to any type of health goals, portion control is key. So instead of portioning everything out yourself this summer, why not rely on NatureBox to do the work for you? Try their Double Berry Fruit Peels, Mango Orange Fruit Chews or Apple & Cinnamon Oatmeal, which are already perfectly portioned in their own packaging.
Tip #3: Don't Fall Victim to Airport Food – Lots of us tend to travel a good amount during the summer months, which means long hours spent on planes, trains and automobiles. And we all know that airports, gas stations and train food cars don't always have the best options. The best way to combat this is to pack some healthy snacks in your carry-on or purse, like NatureBox's Guacamole Bites, Italian Bistro Pretzels or Dried Mango.
For more tips on snacking smarter this summer, check out The Smart Girl's Guide on LaurenConrad.com.
Not a NatureBox member? Choose from over 100 deliciously wholesome snacks by joining NatureBox. Sign up today and kick off your summer by snacking smarter.