Soda doesn't have to be full of artificial sweeteners and ingredients! Try making your own at home with a delicate soda infused with sweet cranberries and refreshing lavender.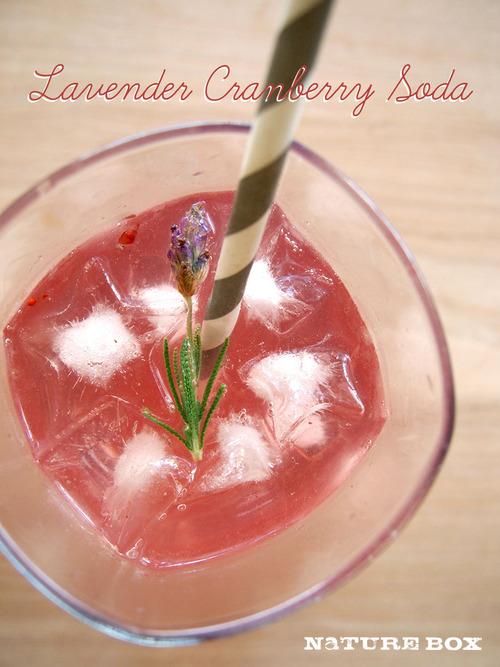 Makes: 4
Prep/cook time: 15 minutes
Ingredients:
1 cup water
1/2 cup cane sugar
1/2 cup Naturebox Dried Cranberries
1 tablespoons fresh lavender flowers
1 tablespoon lemon juice
1 tablespoon cranberry juice (optional; for color)
1 bottle sparkling water
Ice
Directions:
1. In a small saucepan, heat the water and sugar over medium high heat to create a simple syrup.
2. Once the syrup starts simmering, add the cranberries and lavender and lower the heat to low. Steep for 10 minutes.
3. Turn off the heat and stir in lemon juice and cranberry juice. Let cool completely, around 1 hour. Strain.
4. To serve, mix 3 tablespoons of the flavored syrup with 1 to 1-1/2 cups sparkling water (depending on taste) and top with ice. Garnish with a lavender bloom and a straw and enjoy with a good novel.
Still thirsty? Try our other drink recipes!
Get more healthy ideas and delicious snacks by joining NatureBox. Enter coupon code NATURE for 25% off your first month subscription!
A devout student of flavor, Tsz documents her food adventures at Gastrophoria. In the rare moments she's not planning her next meal, she grows businesses through unique design solutions.