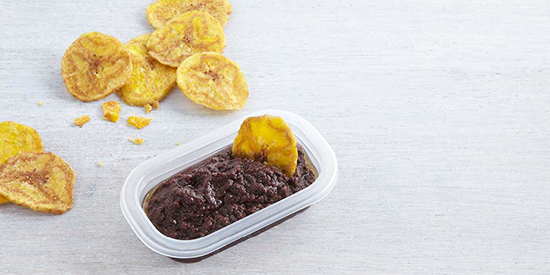 Whether you have celiac disease or not, gluten might cause gut issues. Mounting evidence shows that, particularly for people with irritable bowel syndrome and similar food sensitivities, eating wheat proteins in significant quantities may cause inflammation and impair digestion.
Take IBS, which affects around 10 to 15 percent of Americans. In a study of 34 adults who had IBS but not celiac disease, the half who ate a gluten-rich diet reported more pain, stool inconsistencies, bloating, and fatigue than the group that did not. The trial echoed a study done decades earlier on relatives of celiac disease sufferers — who did not themselves have the condition — that found eating gluten can cause gastrointestinal inflammation.
Is that reason enough to avoid gluten entirely? You be the judge; we'll bring the snacks.
Low-Gluten Office Snacks
Although as a little as a crouton's worth of gluten can trigger symptoms in people with celiac disease, no study to date has shown that trace amounts of gluten are dangerous for the general population.
If you're willing to risk consuming trace amounts of gluten, then consider the following snack choices:

1. Probiotic power mix
Beyond limiting your gluten intake, one of the best ways to improve digestion is to take probiotics. Thanks to this healthy snack, you don't need to gulp down yogurt, take pills, or eat old cheese to get more good bacteria in your diet. To probiotic-coated diced apricots, we add raisins, cranberries, sunflower seeds, cashews, and more. The result is an office snack that's smooth yet tangy, chewy yet crunchy, and sweet but not artificially so. And unlike most other power snack mixes, ours contains no sodium whatsoever and less than 150 calories per quarter-cup serving. Although it has some additional sodium and calories, our keto power mix is also a savvy choice for those avoiding gluten.
2. Vanilla almond clusters
When you see the word "cluster," you probably assume the snack contains gluten, right? But while many similar snacks use wheat products as binders or fillers, this office snack keeps things simple. Beyond almonds and vanilla, its only ingredients are organic brown rice syrup, cane sugar, and Himalayan pink salt. Don't worry about breaking your sugar bank, though: This healthy snack has less than 10 grams of sugar per serving. Although it does include 11 grams of fat, only one of those is saturated. If you're interested in the almonds alone, which have even less saturated fat as a percentage of total fat, our roasted salted almonds are a savory option that's also made without gluten.
3. Salt & pepper pistachios
If you're cutting out gluten to fight stubborn fat, put this healthy office snack on your shopping list. Although pistachios are high in fat, with 13 grams per 30-gram serving, research shows that a diet rich in nuts promotes leaner body composition. Pistachios fare even better than other tree nuts in this category, researchers suspect, because they're typically served in their shell. Taking the time to crack each shell reduces eating speed, causing the body to feel full after consuming fewer calories.
4. Dark chocolate berry trail mix
When your tongue can't decide what it wants, give this trail mix made without gluten a try. Assembled with dark chocolate chips, golden raisins, dried cranberries, cashews, almonds, sunflower seeds, pumpkin seeds, and more, this office snack covers every corner of the flavor spectrum. Mellow nuts and chocolate balance the tangy fruit, while a little salt creates contrast with the fruit's gentle sweetness. It's also the most nutritionally rounded snack on this list, with a hearty helping of healthy fats, naturally occurring carbohydrates, and plant-based proteins.
If you're following the keto diet as a strategy for cutting out gluten, these cashews should be on your short list of office snacks. Given that 11.5 of their 14 total grams of fat are unsaturated, they're one of the healthiest sources of fat you'll find on grocery shelves. With 5 grams of protein per 30-gram serving, they make a great pre-workout snack. Thanks to their mild crunch, they also make a great crouton replacement in soups or salads. Whether you prefer the salted or spicy sriracha version, don't let their sodium content sneak up on you.
Although plain potato chips are gluten-free, given that they're not made from grain, their seasonings often contain wheat derivatives. If you're craving chips but don't want to take the chance on gluten, these healthy snacks are a stellar substitute. With no added sugar and just 60 milligrams of sodium per quarter-cup serving, they're satisfying and heart-healthy at the same time. Plantains are one of the best natural sources of potassium, which is critical for heart health, osteoporosis prevention, and proper muscle contraction. Try dipping them in peanut butter or even guacamole for a sweet or savory treat.
7. Blueberry almond quinoa bites
One of the few grains low-gluten dieters can enjoy is quinoa, a superfood hailing from South America. Fortunately, quinoa is also one of the most nutritious grains out there: It's full of fiber, protein, B vitamins, magnesium, and more. Although most people like it in savory applications, we think it pairs well with blueberries and almonds for a sweet but still healthy snack. Believe it or not, though, this vegan office snack has just 7 grams of sugar per serving. Enjoy it alone as a morning snack or with milk as a cereal replacement.
Gluten may or may not be the bad guy that emerging research suggests it is, but why take the chance? Between jerkies, nuts, dried fruit, and healthy grains, we've got plenty of office snacks made without gluten to keep you going all day long.