Whether you're doing turkey or ham for Thanksgiving, we've got you covered with some leftover ideas! Below, here's a freshly festive take on Cobb salad.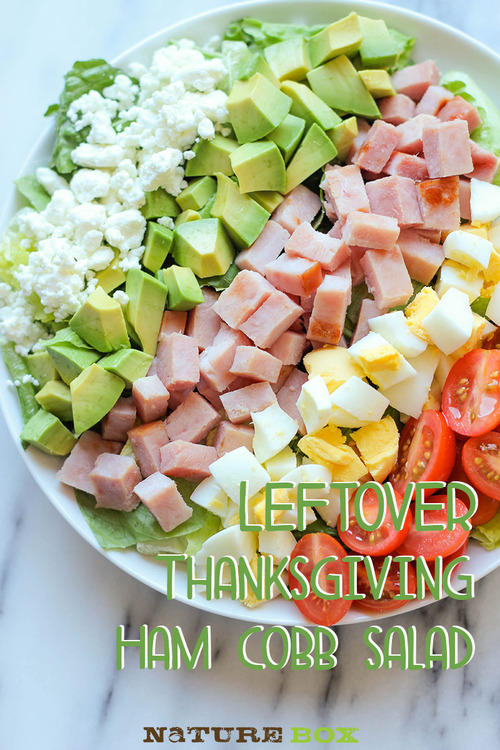 Serves: 2
Prep time: 20-30 minutes
Ingredients:
5 cups chopped romaine lettuce
1 cup diced ham
1/2 cup cherry tomatoes, halved
1 avocado, halved, seeded, peeled and diced
2 hard-boiled eggs, diced
1/4 cup crumbled goat cheese
For the Greek yogurt ranch:
1/3 cup Greek yogurt
1/4 cup buttermilk
1/4 teaspoon dill
1/4 teaspoon garlic powder
1/4 teaspoon onion powder
Kosher salt, to taste
Directions:
1. To make the Greek yogurt ranch, whisk together Greek yogurt, buttermilk, dill, garlic powder, onion powder and salt in a small bowl; set aside.
2. To assemble the salad, place romaine lettuce in a large bowl; top with arranged rows of ham, tomatoes, avocado, eggs and goat cheese.
Need more ideas? Check out our turkey recipes!
Get more healthy ideas and delicious snacks by joining NatureBox. Sign up today to get 50% off your first box!
Chung-Ah, the author behind Damn Delicious, loves to take simple ingredients and transform them into sophisticated and elegant meals.