Already thinking about what you can prep with all that leftover Thanksgiving turkey? Saute some veggies and add all the ingredients to make a pot pie!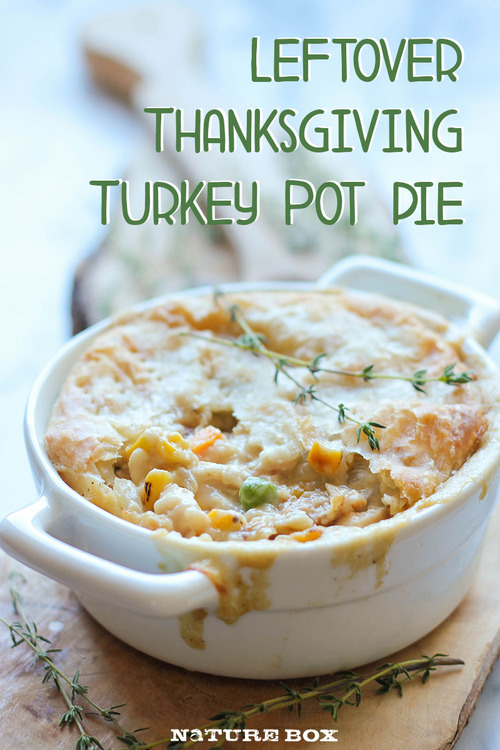 Serves: 4
Prep time: 15 minutes
Cook time: 35-45 minutes
Ingredients:
2 tablespoons unsalted butter
2 cloves garlic
1 small onion
2/3 cup frozen corn kernels
1/2 cup frozen diced carrots
1/2 cup frozen peas
1/3 cup all-purpose flour
1 cup chicken broth
3/4 cup milk
1 teaspoon fresh thyme leaves
Kosher salt and freshly ground black pepper, to taste
2 cups chopped leftover Thanksgiving turkey
1 puff pastry sheet, cut into four 4 1/4-inch squares
1 large egg, beaten
Directions:
1. Preheat oven to 375 degrees F. Lightly oil four 10-ounce ramekins or coat with organic nonstick spray.
2. To make the filling, melt butter in a large skillet over medium high heat. Add garlic, onion, corn, carrots and peas and cook, stirring occasionally, until onions become translucent. Whisk in flour until lightly browned, about 1 minute. Gradually whisk in chicken broth, milk and thyme, and cook, whisking constantly, until slightly thickened, about 1-2 minutes. Stir in turkey; season with salt and pepper, to taste.
3. Divide the filling evenly into the ramekins. Top with puff pastry and gently cut 4 vents in the top of the crust. Brush each crust with the beaten egg.
4. Place into oven and bake until the crust is golden brown, about 20-30 minutes. Let cool 5 minutes before serving.
Need more ideas? Check out our turkey recipes!
Get more healthy ideas and delicious snacks by joining NatureBox. Sign up today to get 50% off your first box!
Chung-Ah, the author behind Damn Delicious, loves to take simple ingredients and transform them into sophisticated and elegant meals.