Artichokes, lemon, dill and shrimp come together in this quick couscous dish. It's easy enough for a quick weeknight meal and for prepping a substantial side dish for a gathering with friends!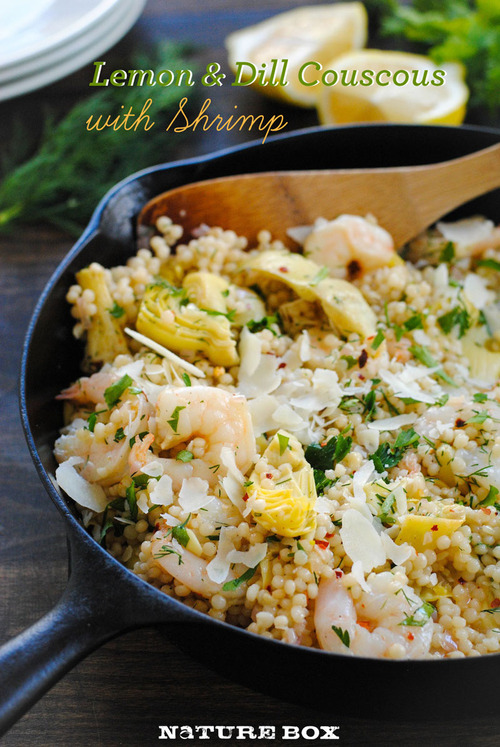 Serves: 4
Prep time: 10 minutes
Cook time: 10 minutes
Ingredients:
2-1/4 cups less-sodium chicken broth
1-1/2 cups Israeli (pearl) couscous
1 tablespoon olive oil or butter
2 garlic cloves, minced
1 small shallot, minced
1 can (14 ounces) artichoke quarters, drained
1 pound 26-30 count peeled and deveined shrimp, tails removed, patted dry
1/4 teaspoon ground black pepper
Pinch of red pepper flakes
Juice of 1 lemon
Zest of 1/2 lemon
1 tablespoon roughly chopped fresh dill
1 tablespoon roughly chopped fresh parsley
1/3 cup shaved Parmesan cheese, for garnish
Directions:
1. In medium saucepot, bring broth to boil over medium-high heat. Stir in couscous. Reduce heat to medium; cook 8 to 10 minutes or until couscous is tender. Set aside.
2. Meanwhile, in large skillet, heat oil over medium-high heat. Add garlic and shallot; cook 2 minutes, stirring frequently. Add artichokes, shrimp, black pepper and red pepper flakes; cook until shrimp turn opaque throughout, stirring occasionally, about 4 minutes.
3. Add lemon juice, lemon zest, dill, parsley and couscous; toss until well combined. Serve in warm bowls garnished with cheese.
Get more healthy ideas and delicious snacks by joining NatureBox. Sign up today to get 50% off your first box!
Lori is a Detroit-area food writer, recipe developer and restaurant reviewer. She's usually found in the kitchen cooking up something that undoubtedly involves beets, lemons or coconut for her blog, Foxes Love Lemons. Check out more of her recipes here.