Looking to add some zest and crunch into your life? Lemon juice and a dash of vanilla create a light and refreshing flavor combination, while graham crackers and pistachio add a crunchy texture to this absolutely delightful parfait. Quick and easy to make, whip this up at your next last-minute dinner party!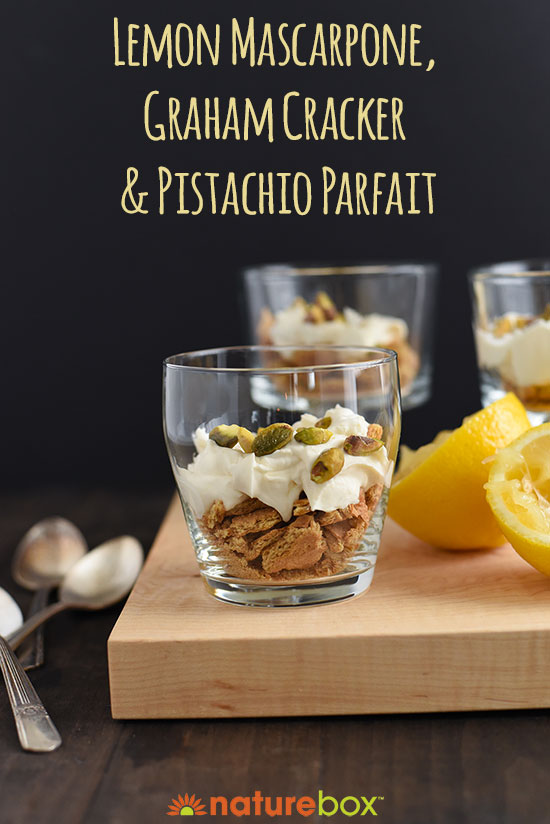 Serves: 4
Prep Time: 15 minutes
Ingredients:
6 honey graham crackers, roughly crushed
1/2 cup mascarpone cheese
2 tablespoons milk
1 tablespoon fresh lemon juice
1/2 teaspoon grated lemon zest
1/2 teaspoon vanilla extract
1/4 cup roughly chopped NatureBox Lemon Pucker Pistachios
Directions:
1. Divide graham crackers between 4 small parfait dishes or glasses.
2. In medium bowl, whisk mascarpone, milk, lemon juice and zest, and vanilla 1 minute or until light and fluffy. Divide mixture over graham crackers.
3. Sprinkle pistachios over mascarpone mixture. Serve immediately or cover and refrigerate up to 2 hours.
In a time crunch? Try our other 3-step recipes!
Get more healthy ideas and delicious snacks by joining NatureBox. Sign up today to kick off your membership with a free trial!
Lori Yates is a Detroit-area food writer and recipe developer. She is the author of Foxes Love Lemons, where she posts special yet simple original recipes, tips from her culinary school adventures and restaurant reviews. Her mission is to encourage people to enjoy the act of cooking at home. You can follow her on Facebook and Twitter @foxeslovelemons.