These lemon pie shooters are the perfect treat when you have a sweet tooth. Since they're added to shot glasses, they're easy to divvy up into small portions.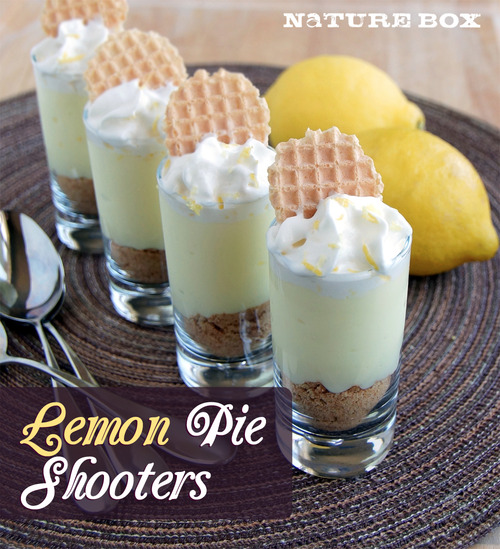 Serves: 4
Prep time: 5 minutes
Ingredients:
2 graham crackers
1-1/4 cups low-fat lemon yogurt
1/4 cup light whipped cream
1 tablespoon lemon zest
Directions
1. Add the graham crackers to a food processor and pulse until crushed into fine crumbs.
2. Add 1-1/2 tablespoons crushed graham crackers to each of the four 3-ounce shot glasses.
3. Add 1/4 cup lemon yogurt to each shot glass, and top with light whipped cream, fresh lemon zest and NatureBox Lemon Meringue Waffles.
Plus, here are more tasty lemon recipes!
Get more healthy ideas and delicious snacks by joining NatureBox. Sign up today to get 50% off your first box!