What's for brunch? We couldn't decide on a savory or a sweet meal so we made the best of both worlds! With a touch of lemon, they're delicious on their own or make for a perfect pair as a side dish to a hearty stew.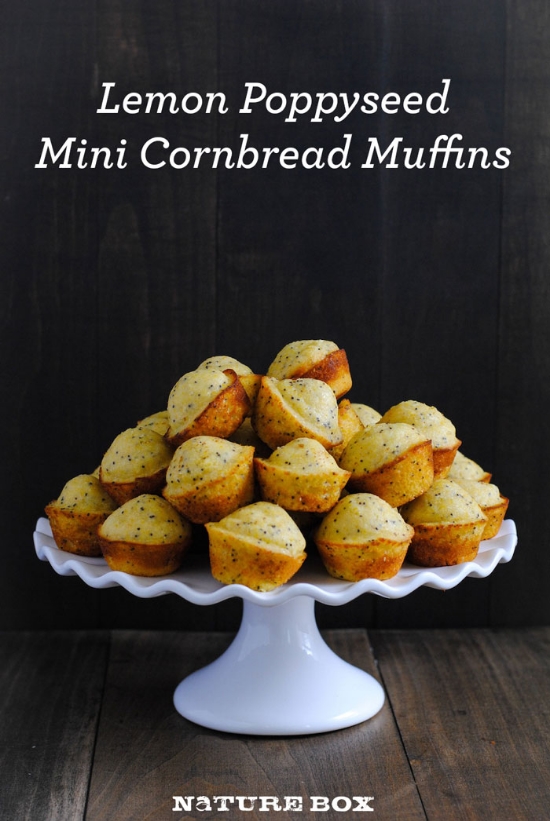 Makes: about 20 mini muffins
Prep Time: 10 minutes
Bake Time: 8 minutes
Ingredients:
Organic nonstick cooking spray
1/2 cup corn meal
1/2 cup all-purpose flour
3 tablespoons granulated sugar
1 teaspoon baking powder
Zest of 1 small lemon (about 2 teaspoons)
Pinch of sea salt
1 egg, lightly beaten
2 tablespoons extra virgin olive oil
1/2 cup milk
1-1/2 teaspoons poppyseeds
Juice of 1 small lemon (about 1-1/2 tablespoons)
Directions:
1. Preheat oven to 400 degrees F. Spray mini muffin pan with cooking spray.
2. In large bowl, whisk together corn meal, flour, sugar, baking powder, lemon zest and salt. Add egg, oil, milk, poppyseeds and lemon juice; stir until just combined. Spoon batter into 20 prepared mini muffin cups (fill cups about 3/4 of the way full).
3. Bake 8 to 9 minutes or until toothpick inserted in center of muffin comes out clean. Cool muffins in pan on wire rack 5 minutes. Remove muffins from pan and transfer to wire rack to cool completely.
Pics or it didn't happen! When you whip up this recipe, post it on Instagram or Facebook with the hashtag #natureboxrecipe so we can like and reshare it!
Get more healthy ideas and delicious snacks by joining NatureBox. Sign up today to get 50% off your first box!