Looking for a gluten-free take on Thanksgiving turkey stuffing? Check out this filling but wholesome lentil-mushroom stuffing with festive dried cranberries and savory dried sage.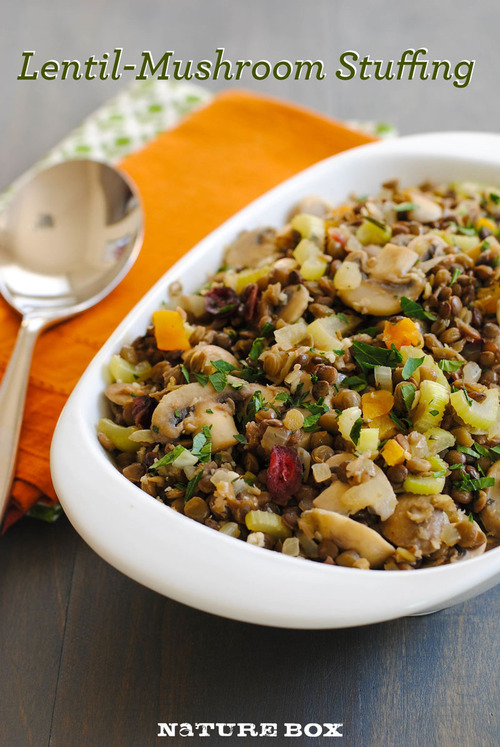 Serves: 8
Prep time: 15 minutes
Cook time: 25 minutes
Ingredients:
2 cups water
1 cup plus 1/2 cup less-sodium chicken or vegetable broth
1/2 cup dried brown lentils, picked through and rinsed
1/2 cup dried green lentils, picked through and rinsed
1 bay leaf
1 tablespoon olive oil
3 celery stalks, chopped
3 garlic cloves, minced
1/2 small white onion, minced
12 ounces button mushrooms, sliced
1/4 cup NatureBox Sun-Dried California Apricots, chopped
1/4 cup NatureBox Dried Cranberries
1-1/2 teaspoons finely chopped fresh sage
1 teaspoon finely chopped fresh rosemary
1/4 teaspoon kosher salt
Chopped fresh parsley, for garnish (optional)
Directions:
1. Place water, 1 cup broth, lentils and bay leaf in medium saucepot; heat to boiling over medium-high heat. Reduce to medium-low and simmer 20 to 25 minutes or until lentils are just tender, stirring occasionally. Strain lentils; remove bay leaf.
2. Meanwhile, heat oil in large high-sided saute pan over medium-high heat. Add celery, garlic and onion; cook 2 minutes, stirring frequently. Add mushrooms; cook 6 minutes, stirring occasionally.
3. Stir in apricots, cranberries, sage, rosemary, salt and remaining 1/2 cup broth. Heat to simmering; cook 2 minutes. Stir in lentils, cook 2 minutes or until lentils are heated through. Serve immediately, garnished with parsley, if desired.
Pics or it didn't happen! When you whip up this recipe, post it on Instagram or Facebook with the hashtag #natureboxrecipe so we can like and reshare it!
Get more healthy ideas and delicious snacks by joining NatureBox. Sign up today to kick off your membership with a free trial!
Lori is a Detroit-area food writer, recipe developer and restaurant reviewer. She's usually found in the kitchen cooking up something that undoubtedly involves beets, lemons or coconut for her blog, Foxes Love Lemons. Check out more of her recipes here.