There doesn't have to be a huge disparity between game day treats and health-conscious eats. We baked up this lightened-up version of buffalo chicken dip. It's still savory and still spicy but we used low-fat Greek yogurt to make it guilt-free!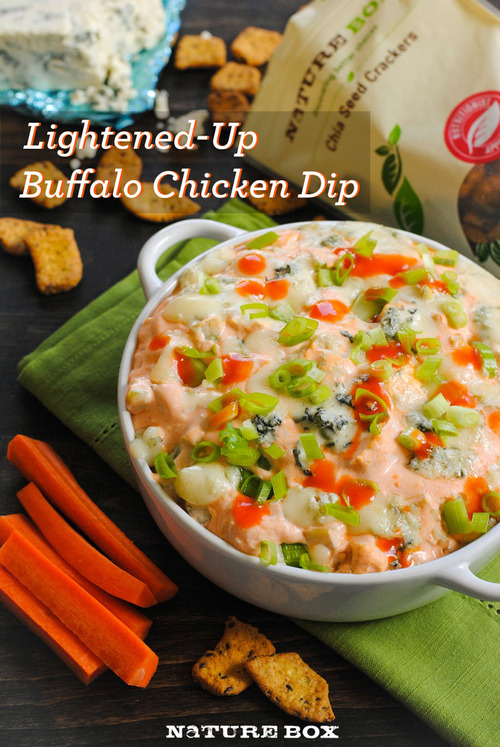 Makes: about 4 cups
Prep time: 10 minutes
Bake time: 20 minutes
Ingredients:
1 package (8 ounces) light cream cheese
4 celery ribs, chopped (about 1 cup)
1 cooked chicken breast, shredded
1 cup low-fat Greek yogurt (or light sour cream)
2/3 cup buffalo sauce, plus extra for garnish, if desired
1 tablespoon fresh lemon juice
2 ounces crumbled bleu cheese
2 green onions, thinly sliced
NatureBox Chia Seed Crackers, Oat Bran Dippin' Stix, Masa Crisps and/or sliced vegetables, for serving
Directions:
1. Preheat oven to 350 degrees F. In medium saucepot, cook cream cheese over medium heat 3 minutes or until smooth, stirring constantly. Remove from heat; stir in celery, chicken, yogurt, buffalo sauce and lemon juice.
2. Transfer mixture to medium baking dish; sprinkle with blue cheese. Bake 20 minutes or until edges are bubbly. Garnish with green onions and extra buffalo sauce, if desired. Serve warm with NatureBox Chia Seed Crackers and/or sliced vegetables.
Get more healthy ideas and delicious snacks by joining NatureBox. Sign up today to get 50% off your first box!
Lori is a Detroit-area food writer, recipe developer and restaurant reviewer. She's usually found in the kitchen cooking up something that undoubtedly involves beets, lemons or coconut for her blog, Foxes Love Lemons. Check out more of her recipes here.