In this better-for-you party food, the classic jalapeño dip is lightened up with turkey bacon, light cream cheese and Greek yogurt. Serve this at your next party and surprise your friends by how you cut down on calories and fat without cutting down on delicious flavor!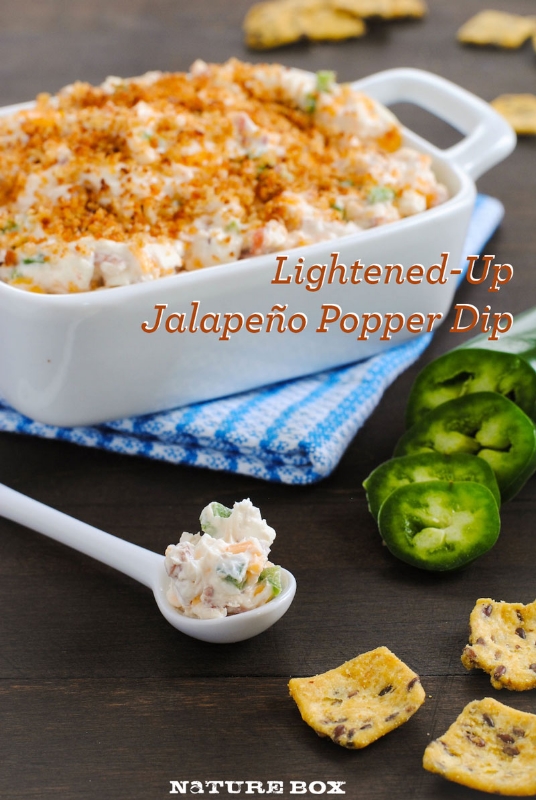 Makes: about 2-1/2 cups
Prep Time: 15 minutes
Bake Time: 15 minutes
Ingredients:
4 slices turkey bacon, cut into 1/4-inch pieces
1 package (8 ounces) light cream cheese
1 large jalapeño pepper, seeded and minced (add some seeds to dip if you like it spicy)
4 ounces sharp cheddar cheese, shredded
1 cup Greek yogurt
Juice of 1/2 lime
1 slice whole wheat bread, torn in large pieces
2 teaspoons olive oil
NatureBox Masa Crisps, for serving
Directions:
1. In large skillet, cook bacon over medium-high heat 6 to 8 minutes or until crisp. Transfer to medium bowl. Add cream cheese, jalapeño, cheddar cheese, yogurt and lime juice; stir until well combined. Transfer to medium baking dish.
2. Preheat oven to 350 degrees F. In food processor, pulse bread until it become small to medium breadcrumbs. In small skillet, heat oil over medium-high heat. Add breadcrumbs; cook 4 to 5 minutes or until golden brown, stirring frequently.
3. Sprinkle breadcrumbs over dip; transfer to oven and bake 15 to 20 minutes or until edges are bubbly. Serve warm with Masa Crisps.
Still hungry? Try our other lightened-up dip recipes!
Pics or it didn't happen! When you whip up this recipe, post it on Instagram or Facebook with the hashtag #natureboxrecipe so we can like and reshare it!
Get more healthy ideas and delicious snacks by joining NatureBox. Sign up today to get 50% off your first box!