No football party is complete without a warm, cheesy, gooey dip to keep you warm and satisfied when the temperatures outside are cold and the game goes into unexpected overtime. But unfortunately, we normally associate words like "cheesy" and "gooey" with "high-fat" and greasy.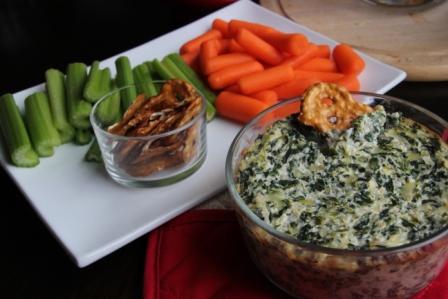 Here's a light twist on a classic game day appetizer fare that can be made a day in advance and reheated in the microwave or oven. Instead of serving this dip with traditional fried tortilla chips, scoop it up with baked crackers and sliced vegetables. As your eyes are glued to the TV, you'll be gobbling up a serving of your daily recommended vegetables!
The original recipe is from Gina of Skinny Taste, found here.
What You'll Need:
One 13.75 oz container of artichoke hearts packed in water (found in the canned vegetable section of your supermarket)
10 oz of frozen spinach, thawed and squeezed (note: thaw frozen spinach according to package directions, then let cool for a few minutes before wrapping in a paper towel and squeezing out residual water. Make sure you squeeze out as much water as you can, so your dip is not watered down
¼ cup of chopped shallots or sweet onions
1 clove of garlic
2/3 cup of fat-free Greek yogurt (If this is an ingredient that you don't normally keep on hand, pick up one individual 6 oz container of fat-free Greek yogurt and use the entire container)
1/3 cup of light mayonnaise
2/3 cup grated Parmigiano Reggiano cheese (or grated Parmesan shaker cheese)
4oz (1 cup) of shredded part skim mozzarella cheese
Salt and Pepper to taste
Olive oil or cooking spray
Directions:
Preheat your oven to 375 degrees
In a small food processor, chop the artichoke hearts, garlic and shallots (or onions). If you don't have a food processor, simply chop these ingredients by hand until the artichoke hearts are diced nice and small.
Mix all remaining ingredients in a medium sized bowl until combined. You can now sample a bite and adjust salt and pepper accordingly. Spread the dip out into an oven-proof dish or bowl that has been sprayed with a bit of cooking spray and bake for approximately 20-25 minutes. Serve immediately.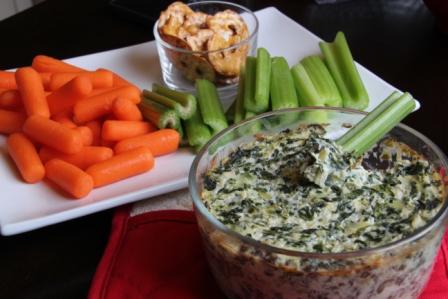 If you plan to make the dip in advance, cover tightly with aluminum foil and store in the fridge overnight. Bake as directed in the oven until warm and cheese has melted (may need to bake for longer than 20-25minutes).
Serve with baby carrots, celery sticks (or your favorite veggies), baked crackers, or pretzel thins. This dip is guaranteed to be a hit with all of your football fans, regardless of who wins the big game.
Get more healthy ideas and delicious snacks by joining NatureBox. Enter coupon code NATURE for 50% off your first month's subscription!