from the NatureBox editors
We shared these purple "green beans" that we found at the market this past weekend and a fun debate on "green beans" vs "purple-hulled peas" quickly ensued on our Facebook Page. There was of course, only one way to find out for sure so we hauled ourselves back to the market, talked with the stand owner, and quickly returned to the NatureBox test kitchen to see what REALLY happens when you cook these little guys. Enjoy!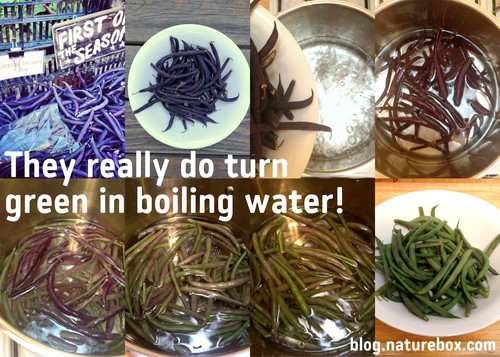 Cool, huh? We think this would be so much fun for kids- it will get them hands-on in the kitchen and will make eating their veggies all the more fun!
Let's chat: Have you ever tried any of these "magic beans" before? Are there any other cool veggies that we need to check out?
Get more healthy ideas and delicious snacks by joining NatureBox. Enter coupon code NATURE for 25% off your first month subscription!