The best thing about making your own homemade granola is that you can put whatever you want in it! That is, you can add as little or as much natural sweetener – like honey or agave – as you like.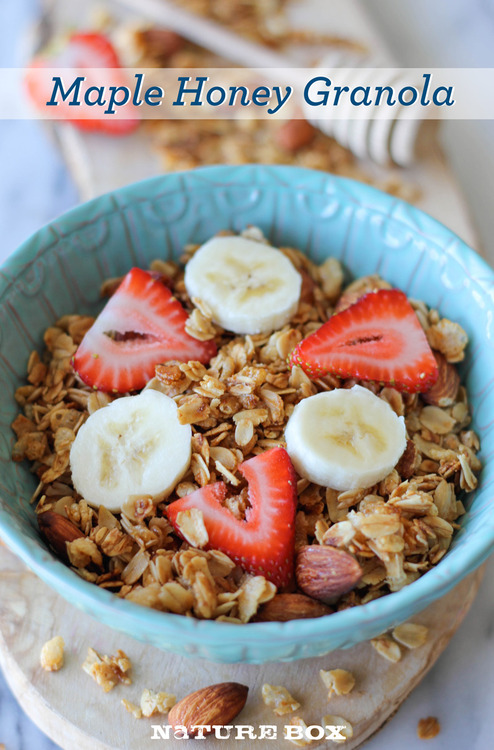 Makes: 4 cups / Serves: 8
Prep time: 10 minutes
Cook time: 15-20 minutes
Ingredients:
2 cups old-fashioned rolled oats
1 cup rice cereal
1 cup almonds
3 tablespoons honey
3 tablespoons coconut oil
2 tablespoons maple syrup
1/2 teaspoon vanilla extract
Directions:
1. Preheat oven to 325 degrees F. Line a baking sheet with parchment paper or a silicone baking mat and set aside.
2. In a large bowl, combine oats, rice cereal and almonds.
3. In a separate large glass measuring cup or bowl, whisk together honey, coconut oil, maple syrup and vanilla. Pour mixture over dry ingredients and stir using a rubber spatula just until moist.
4. Spread mixture onto prepared baking sheet. Place into oven and bake for 15-20 minutes, stirring the mixture halfway through baking. Let cool completely before serving.
Still hungry? Rustle up our other breakfast recipes!
Get more healthy ideas and delicious snacks by joining NatureBox. Enter coupon code NATURE for 25% off your first month subscription!
Chung-Ah, the author behind Damn Delicious, loves to take simple ingredients and transform them into sophisticated and elegant meals.