by Amanda Natividad, NatureBox Editor
Looking for a gluten-free, easy-on-your-tummy pizza recipe? This Margherita Pizza uses a pizza dough or crust made with cauliflower. Plus, it only takes a couple of minutes to make!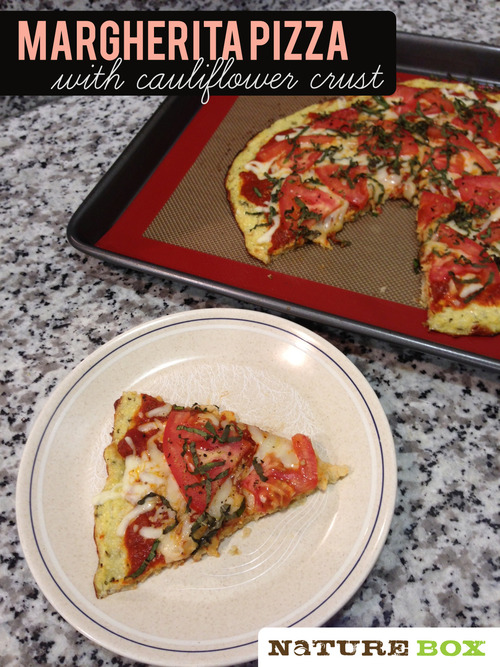 Serves: 4
Prep time: 10 minutes
Cook time: 30 minutes
Ingredients:
12 oz cauliflower (or 1 head)

1 tablespoon dried oregano

1 teaspoon kosher salt

1/2 cup shredded mozzarella cheese

1 egg
For the topping:
1/2 cup marinara sauce

1/2 cup shredded mozzarella cheese

1/2 beefsteak tomato, thinly sliced and quartered

1/4 cup chiffonaded basil
Directions:
1. Preheat oven to 375 degrees F.
2. Make cauliflower crust: Chop cauliflower florets into chunks. Pulse the cauliflower in a food processor until it resembles a fine grain, like couscous, about 2 minutes. Add cauliflower to a large mixing bowl. Stir in oregano, salt, mozzarella cheese and egg. The mixture will be soft and moist, and easy to shape.
3. Place the cauliflower crust on a silicon-lined baking sheet. Using your hands, press it into a circle about 1/4-inch thick. Bake in oven for 15 minutes. Change oven temperature to 425 degrees F and bake 10 minutes longer. The crust will be golden brown.
4. Add toppings: Remove crust from oven. Change oven temperature to Add the marinara sauce and mozzarella cheese. Add a layer of tomatoes and top with basil. Bake again at 425 degrees F just until the cheese melts, about 5 minutes.
Get more healthy ideas and delicious snacks by joining NatureBox. Enter coupon code NATURE for 25% off your first month subscription!
Amanda really wants to help you cook delicious foods and sustain a healthier lifestyle. When she's not goofing around on Twitter she's probably noshing on the pile of NatureBox snacks at her desk.