Planning healthy meals is a cornerstone of proper nutrition. But where to start? Luckily, there are many tools and tips to help make the task of planning healthy meals easier.
Meal planning tips:
Before you go grocery shopping, take time to inventory what you already have in your pantry and cupboards to plan meals and snacks for the week. Meal planning can help you ensure that you include multiple food groups and balanced meals throughout the week.
Build your shopping list from your meal plan. Your shopping list can be as simple as pen and paper, or you may choose to use a template downloaded online (try a web search for grocery shopping list templates) or try a list on your smartphone so you won't forget it at home.
Include fun and easy to prepare meals into the rotation. Remember, good nutrition doesn't have to be complicated! Foods like tacos prepared with lean ground meat or pizza made on a whole grain crust are easy to prepare, family-friendly and can include all the food groups. Try adding diced veggies to the taco meat before cooking, or slicing veggies to top the pizza for extra nutrients.
Variety is the spice of life! Try new foods and recipes on a regular basis. Recipe websites abound with fresh meals and snacks suitable for any palate and level of cooking ability. Having variety is important for a number of reasons- first off, people who have more variety in their diets are more likely to have nutritionally adequate diets. Plus, nutrients are absorbed differently when served cooked or raw, or eaten with different foods. For instance, you absorb more vitamin A from spinach when it is served with a food with fat such as salad dressing or when sautéed with olive oil. Also, variety is important for satisfaction. So break out of your food rut and try some new foods this month!
"MyPlate" your way to healthier meals: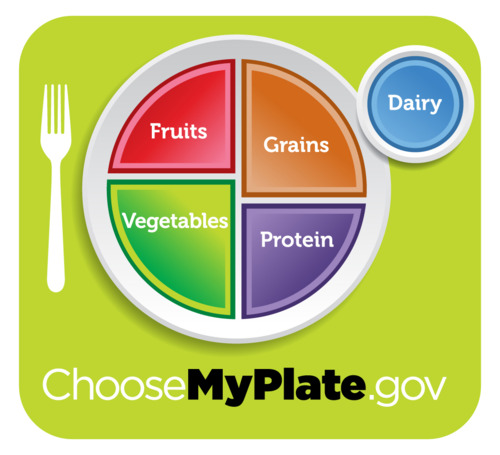 The United States Department of Agriculture (USDA) has devised a way to help Americans plan their meals. It's called MyPlate, and is available at www.choosemyplate.gov. MyPlate replaced MyPyramid (or in generations past, the Food Guide Pyramid), and accompanied the Dietary Guidelines for Americans released in 2010. This simple visual was designed according to the advice in these guidelines. The plate includes the five main food groups: fruits, vegetables, grains, proteins and dairy. Fats are another food group that aren't represented on the plate, but are also an important group to be aware of and include in moderation. Choose heart healthy fats that come from vegetable sources, nuts or fish as often as you can.
Serving sizes for packaged foods can be found on the label. Use the following "handy" guide to eyeball portions and help you to build healthy meals:
A thumb tip is about a teaspoon- a typical serving of butter, margarine or oil
A fist is about a cup- a typical serving of dry cereal or raw veggies
A cupped palm is about an ounce, a common portion size for nuts or snack foods
A palm is about 3-5 ounces- a serving of a protein food such as chicken or fish
Of course, the number of servings from the food groups you'll need per day will vary depending on your energy needs and hunger. Energy needs vary according to age, gender, body size activity level. To learn more about your personal energy needs, check out the Dietary Guidelines for Americans.
The beauty of eating balanced meals throughout the day is that there is no guesswork about whether you have met your daily needs for fruits and veggies, protein, dairy and whole grains. So plan and prepare, then take it one meal at a time. Your body will thank you for it.
Get more healthy ideas and delicious snacks by joining NatureBox. Enter coupon code JANPROMO for 50% off your first month subscription!
Kat Brown MS RD RYT is a San Francisco Bay Area based Registered Dietitian and Yoga Teacher. As a nutrition counselor, writer, cook, and yogini she seeks to inspire others to nourish themselves and live balanced, fulfilled lives.