Looking for a healthy, quick, and delicious salad recipe? Look no further! Try this fresh, crunchy and satisfying Mediterranean Mixed Green Salad!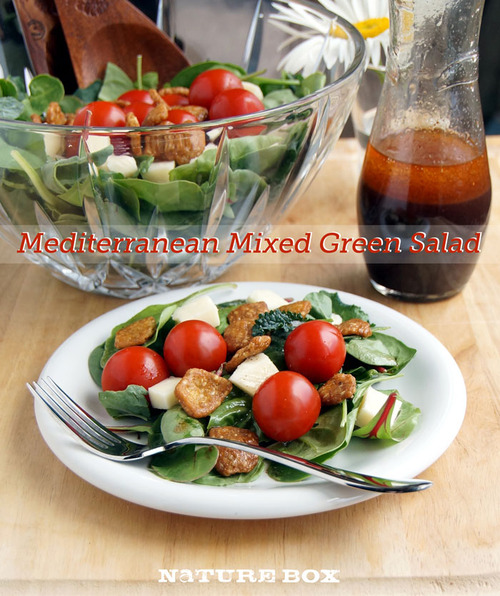 Prep time: 10 minutes
Ingredients:
1 package mixed baby greens (about 5 ounces)
2 cups cherry tomatoes
1/4 cup fresh basil
1-1/2 cups fresh mozzarella cheese, cubed
For the balsamic vinaigrette:
1/4 cup balsamic vinegar
3/4 cup olive oil
1 teaspoon brown sugar
2 cloves garlic, minced
1/4 teaspoon kosher salt
1/4 teaspoon freshly ground black pepper
Directions:
1. Rinse and drain the salad, basil and cherry tomatoes. Add to a large salad bowl along with mozzarella cheese and Honey Crunch Crisps, and toss together.
2. In a small bowl, whisk together balsamic vinegar, olive oil, brown sugar, garlic, salt and pepper. Add to salad, to taste.
Get more healthy ideas and delicious snacks by joining NatureBox. Enter coupon code NATURE for 25% off your first month subscription!
Kristianne is the founder of My San Francisco Kitchen, where she shares everyday recipes that focus on cooking/baking from scratch.