We all want to celebrate barbecue season, but having a big, fat, juicy burger doesn't exactly help our waistline…or our cholesterol. Try this leaner take on a grill-out favorite — Mediterranean Spiced Turkey Burgers! Serve them with gluten-free or whole-wheat buns as a healthier, lighter, yet still delicious and filling alternative!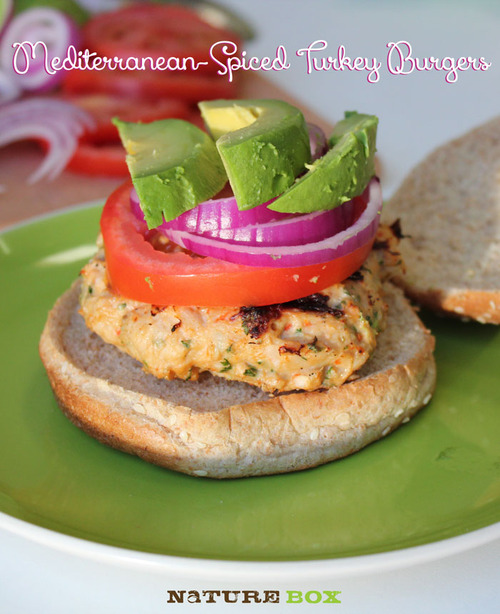 Serves: 4
Prep Time: 10 minutes
Cook Time: 15 minutes
Ingredients:
1 pound ground turkey breast (preferably 99% fat-free)
1 small onion
1/2 cup chopped parsley
1 teaspoon red pepper flakes
1 teaspoon cumin
1/2 teaspoon garlic powder
1 teaspoon kosher salt
1 teaspoon oregano
1 egg
1 teaspoon red pepper paste (optional)
4 whole-wheat or gluten-free buns, split
For the toppings:
1 roma tomato, sliced
1 avocado, halved, seeded, peeled, and sliced
1 red onion, sliced
Directions:
1. In a large bowl, mix togetherground turkey, onion, parsley, red pepper, cumin, garlic powder, salt, oregano, egg, and pepper paste until well-combined.
2. Take a handful of the ground turkey mixture, roll it into a ball about the size of your palm and then flatten into a 1/2 inch patty. This should make about 4 patties.
3. Preheat barbecue grill or grill pan over medium-heat. Place the patties onto a grill and cook until done, about 5-7 minutes on each side. Serve immediately with tomatoes, red onions, and avocados or toppings of your choosing.
Need help making the perfect grill marks? Check out our quick and easy how-to!
Get more healthy ideas and delicious snacks by joining NatureBox. Enter coupon code NATURE for 25% off your first month subscription!
Lorig knows the importance of maintaining a balanced lifestyle and wants to share some of her healthy alternatives to summer favorites!