With research supporting that small, frequent meals are the best way to keep your metabolism burning, finding healthful snacks becomes an important component in a balanced diet. Without satisfying snacks, we are more likely to overeat or splurge at the next meal. So not only should snacks be nutritious and filling, they should be tasty too!
Meet NatureBox Cranberry Almond Bites.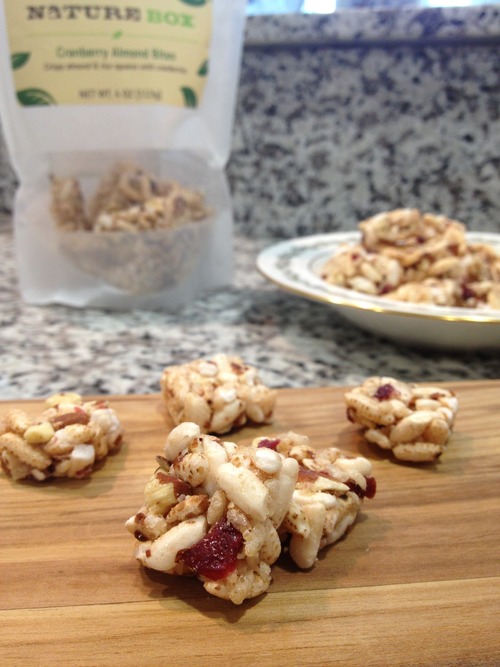 Why do you love it?
If you like granola, Cranberry Almond Bites are a great way to have it on-the-go. They're easy to eat, and unlike typical loose granola, they do not need to be spooned over or eaten with anything. They're lightly sweet and pack a good crunch on their own. Granola can easily be high calorie in large portions, so these bite-size pieces make it easier to keep track of the appropriate snack portion.
What junk food would you swap out for this snack?
The Cranberry Almond Bites are a great alternative to a cereal bar. Cereal and granola bars can have a lot of hidden saturated and trans fats, sugar, and preservatives. But, like all of the NatureBox snacks, the Cranberry Almond Bites have a simple ingredient list. They are full of wholesome grains and have no preservatives.
Are these snacks okay to eat if you have diabetes?
These would actually be a good option for a diabetic-friendly snack. Not only is there an appropriate amount of carbohydrates for a snack portion, there is fiber and protein to help with glycemic control and satiety.
When's the best time of day to eat this?
For those who have a habit of eating a small breakfast, this would be a good mid-morning follow-up. In the middle of a busy workday, one could easily eat a handful with a cup of lowfat or nonfat milk as an alternative to cold cereal.
The Cranberry Almond Bites would also be perfect to bring along for low- to moderate-intensity outdoor exercise, such as hiking or bike riding.
Get these Cranberry Almond Bites along with other delicious snacks and healthy ideas by joining NatureBox. Enter coupon code NATURE for 25% off your first box!
Christina is a registered dietitian and Clinical Nutrition Manager at a healthcare facility in Los Angeles, California. She has a passion for nutrition education and wellness promotion. Christina considers nutrition the foundation for growth, strength, and energy to do the things we love!