As an athlete, health professional and clean eating advocate, I'm all about eating real food. I'm also all about convenience – but sometimes this combination of real and quick is easier said than done. So when I find a food that offers great flavor and satiation without a lot of added colors, flavors, and preservatives I stock up!
Meet NatureBox Fancy Dried Figs.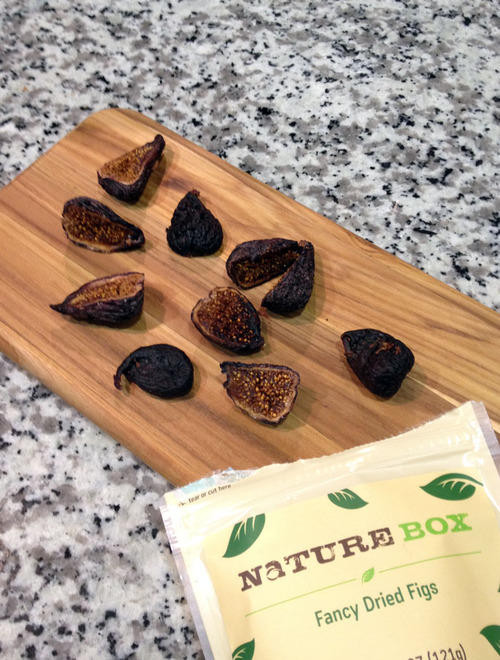 Why do I love this snack?
I'm always looking for an energy boost before and after my workout. Dried fruit is an easy, portable option that offers usable energy plus vitamins and minerals. In one dried fig you get about 23 calories, 6g carbohydrate and 1.5g fiber. Figs are also rich in potassium, making them an especially great option for after exercise. This is because potassium, which is responsible for regulating body water and ensuring proper muscle contraction, needs to be replenished after having been depleted in that sweaty workout.
How can you add Fancy Dried Figs to daily meals?
Breakfast and baked goods: Add sliced figs to your bowl of morning granola or muesli, a meal often made with uncooked rolled oats, nuts and fruits. You can also chop the figs and bake into quick breads and muffins.
A fancy salad: Mix together organic greens, roasted and chilled asparagus, halved figs, pecans, goat cheese and a sprinkle of hemp seeds.
Hors d'oeuvres: Add a soft wedge of brie cheese, Marcona almonds and sliced figs to a pretty wooden board and serve.
Looking for a quick Homemade Energy Bite?
In your food processor combine 1 cup coarsely chopped figs, nut of choice (almonds or walnuts), a pinch each of cinnamon, ginger and nutmeg, 1 tablespoon each ground flax, chia and hemp seeds, a pinch of sea salt and 1-2 tablespoons flavor such as crystallized ginger, mini chocolate chips or coconut flakes. Roll into balls and serve immediately, or store in the refrigerator.
The combination will offer you not only a healthy dose of fiber, carbohydrates and protein for lasting energy but also omega-3 heart healthy fat, and a boost of antioxidants, vitamins and minerals.
Still hungry? Check out these fresh and dried fruit recipes.
Get these Fancy Dried Figs along with other delicious snacks and healthy ideas by joining NatureBox. Enter coupon code NATURE for 25% off your first box!
Kim is a registered dietitian with a passion for approachable education. She is the Regional Educator for Vega in the Eastern U.S. and holds advanced degrees in dietetics and public health. As a runner and self-proclaimed foodie, Kim loves to inspire others through her writing, recipes, workshops and training events. You can follow her on Twitter @foodierunnergrl and The Loud and Clear.