It's almost time for red, white, and blue fun with Memorial Day just around the corner. This lunch box is packed with all sorts of patriotic deliciousness.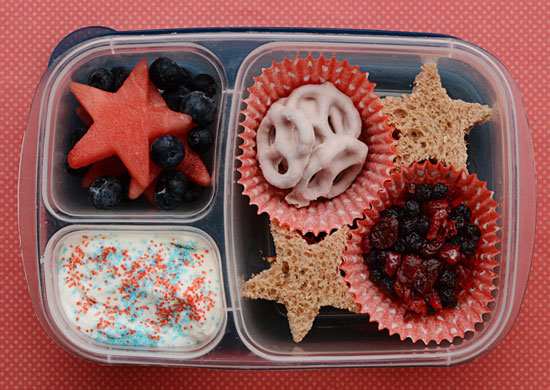 My kids are still in school through June, which gives me a chance to bring in some stars and stripes into their lunches. Just grabbing a star-shaped cookie cutter makes this lunch so easy to create. I slice a large watermelon into circles and then cut stars out. I mix the watermelon and blueberries for a fun little fruit salad. I also cut nut butter sandwiches with the same cutter. Using festive baking cup liners adds even more fun and color! I love to top Greek yogurt with some patriotic sprinkles I picked up at the health food store. Just a pinch will do ya. Or, grab some fresh berries for the yogurt as well! Also pictured here are NatureBox Strawberry Greek Yogurt Pretzels as well as the Cherry Berry Bonanza, which has the perfect patriotic colors.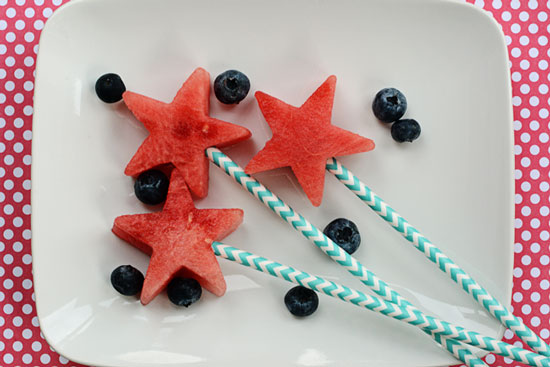 The watermelon stars would also make cute "pops" for a Memorial Day or Fourth of July picnic. Simply add them to a fun straw. So fun, right? My kids always love this kind of treat.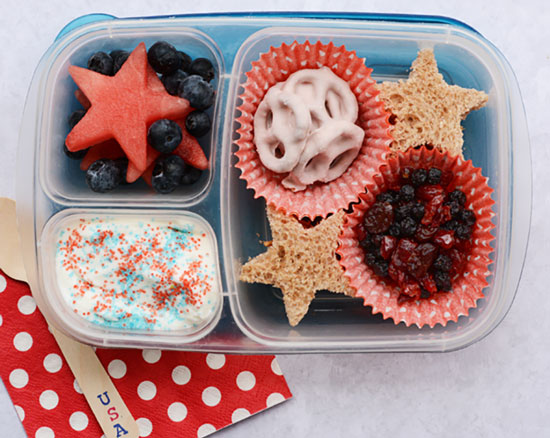 Don't forget the napkin and spoon for this lunch box.
Happy kick-off to summertime!
Looking for more delicious and fun ideas for the kids? Check out our other lunch box ideas!
Get more healthy ideas and delicious snacks by joining NatureBox. Sign up today to kick off your membership with a free trial!
Kristi Dominguez is a former event planner and part-time graphic designer. She blogs at IShouldBeMoppingTheFloor.com where she tackles projects to turn her cookie-cutter home into something more exciting. A lot more exciting.