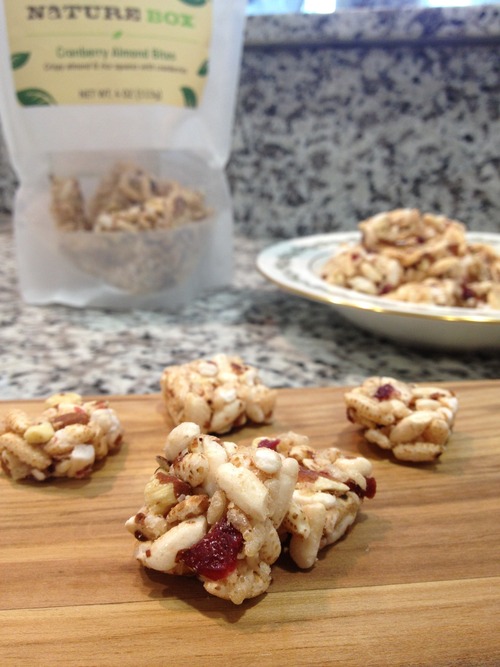 Who says afternoon is snack time? If you ask us, snack time is whenever hunger gets in the way of work.
For better or worse, our team's productivity starts to sag in the mid-morning. About an hour or two before lunch, we start scrounging for office snacks to tide us over. As it turns out, we're not alone: Between 2010 and 2016, Americans' morning snack occasions increased by 17 percent, according to industry researcher NPD group.

Healthy Snacks Made for Mornings
Most office snacks, however, are made for the afternoon. Chips, jerkies, and popcorn may satisfy those salty cravings, but who wants to eat them for brunch? Not us. When we're hit by mid-morning munchies, we turn to the following healthy snacks:

1. Vanilla almond clusters
If you like cereal or granola in the morning but can't stand the post-carb crash, reach for these small-but-mighty office snacks. Because almonds are their primary ingredient, they pack 11 grams of fat and 5 grams of protein per 28 gram serving to fuel your brain to lunch and beyond. Although they're great on the go, try them in a bowl of milk. Just like real cereal, they infuse sweetness and vanilla flavor into the milk base for a satisfying post-snack slurp.

2. Dark chocolate berry trail mix                                                                                                                                                          This on-the-go snack might not mix well with milk, but it has plenty of powerful flavors all on its own. To build it, we pair dark chocolate chips with golden raisins, cranberries, cashews, almonds, pumpkin seeds, and more. The result is a creamy, crunchy, sweet, salty, and tangy blend with a well-balanced nutrient profile. Out of the 7 grams of fat per serving, just 1.5 grams is unsaturated. Plus, it's got a decent dose of iron, which can fight fatigue without the jitters of caffeine.

3. Red berry granola bars                                                                                                                                                                     When you're hit by a snack attack in the morning, it's all too easy to spoil your lunch with a meal's worth of office snacks. If you've been there before, practice self-control by reaching for these individually wrapped bars. We roll dried cranberries, raspberries, and strawberries in with whole grain oats and brown rice for a sweet, wholesome office snack. And if you're still not satisfied? Have another: They're just 110 calories each, none of which come from saturated or trans fats.

4. Mini thin & crispy coconut cookies
No morning snack list would be complete without a cookie, would it? These coconut-infused office snacks may not be the healthiest of the bunch, but there's no question that they quash cravings. At least they have fewer than 10 grams of sugar and just 120 milligrams of sodium per serving. To up the tropical factor, try spreading these office snacks with coconut butter or dipping them in coconut milk. We're also a fan of them topped with fruit spreads.

5. Peach mango apple fruit squares                                                                                                                                            Speaking of fruit blends, these squares pack together three flavors that have us hooked. Although we were skeptical at first, the tropical mango, subtle peach, and sweet apple make for an office snack that's tastier than the sum of its parts. If that wasn't enough, the superfruit baobab provides an exotic kick. With 12 percent of the recommended daily value of fiber and not a single gram of added sugar per serving, these squares are a smart, sweet, and time-saving morning snack.

Call us impatient, but we're always up for one of these office snacks between breakfast and lunch. They're sweet enough for morning indulgence, but they're not junk food. In fact, they're more nutritious than what most of us eat for breakfast. And best of all, they're only our first snack of the day — where we come from, afternoons and evenings are snack times, too.